Roller Derby rolls into its season opener Saturday
Spend an hour and half this Saturday and watch as Prescott's Hometown Whiskey Row-llers host the Northern Arizona Roller Derby Season 9 Opener from 5 to 6:30 p.m. Saturday, March 31, at Pioneer Park Outdoor Hockey Rink, 1185 Commerce Drive, Prescott. Admission is $5, and kids 10 and younger get in free.
The first competition of the season pits the Whiskey Row-llers against the Atomic Rollergirls of Las Vegas in the Northern Arizona Roller Derby's first year as an official member of the Women's Flat Track Derby Association.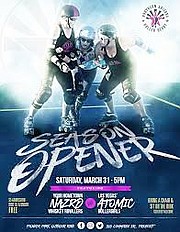 "There's going to be a lot of fast-paced, hard-hitting action," said Carol Hanby, head non-skating official.
The full-contact sport moves quickly. For those unfamiliar with the rules – the official rulebook is 100 pages – information is available on the basics of gameplay to help understand what is going on.
"It's a really interesting sport as far as spectatorship. There is nothing really never happening," said Capt'N Jack, also known as Jacquie Hair, 31.
For instance, the two jammers, or point scorers, wear a helmet cover with a red star. When the teams line up, the blockers are in the front of the line and the jammers try to make their way past them, scoring a point every time that happens.
Players wearing a striped helmet cover are pivots. They are able to accept a star helmet cover from tired jammers and take over as point scorers, with the former jammer now becoming a defensive player.
"There's a lot of strategy for playing defense, they want to keep the jammers back in the pack. Everybody plays defense to keep jammers behind," Capt'N Jack said.
If a defensive player lets the opposing team's jammer past her, she plays offense for her team's jammer. A lot of offensive and defensive moves are happening all the time, she said.
Team captain and league founder Holly Ween has played for 10 years. She returned to the rink a month after giving birth about eight or nine months ago, Capt'N Jack said. Many of the players have been around since the early days of the team, she added.
New faces may appear on upcoming game rosters, however. The players have offered "newbie" beginner workshops over the past few years, and an off-season boot camp October through February.
"Most of the people on our team didn't have much skating experience at all. It's nice to have a skating background. It can take three months or a year to get skating skills down, and then start work on cross-training," Capt'N Jack said.
The team practices two evenings a week, and new players also show up for a Sunday practice. They also work out in a gym. It takes a lot of strength besides just the skating skills, Capt'N Jack said.
The youngest member is 18, having skated in the junior league for a Bakersfield, California, team. "Dee-stroyer" will be playing her first adult game Saturday. Some team members are in their 40s. Team Captain Ween didn't start until age 30.
"It takes a few years to get skating skills down before you know what you're doing. Then you gain the skills over time," Capt'N Jack said.
She wants to stress that roller derby as a sport is very inclusive and diverse. She has seen government employees, surgeons and teachers on teams. Anyone can join, she said, and they are always looking for new skaters, referees and timers.
"We still get a lot of stigma, people think we are drinkers and party animals. We're pretty much all moms," she said.
Bleacher seating is available, but spectators can bring their own chairs and sit trackside. Coolers are welcome, but no glass, please.
The next home game takes place at 5 p.m., Saturday, April 7, at the same location. For more information, call Jacquie Hair at 928-451-1082.
By Sue Tone, follow her on Twitter @ToneNotes. Reach her at stone@prescottaz.com or 928-445-3333, ext. 2043.
More like this story
SUBMIT FEEDBACK
Click Below to:
This Week's Circulars
To view money-saving ads...