I-17 widening, reversible lanes, climbing lanes could help ease traffic problems
Public meeting set April 3 to discuss proposed improvements

By
Cindy Barks
|
Cindy_Barks
Originally Published: March 30, 2018 6:05 a.m.
Solving traffic problems on Interstate 17 has been on the radar of state and local officials for years.
Now, they say a plan is in the works that could bring solutions within the next five to 10 years.
The proposed I-17 improvements will be the topic of a public meeting next week in Black Canyon City.
The meeting — set for 6 to 8 p.m. Tuesday, April 3, at Canon Elementary School, 34630 S. School Loop Road, Black Canyon City — will provide an update to the public about the ongoing study of possible improvements along I-17 between Anthem and Cordes Junction.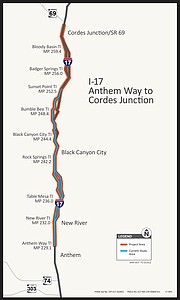 As explained by officials with the Arizona Department of Transportation (ADOT), the plans involve at least three separate improvements:
• A third lane on each side of the interstate from Anthem to Black Canyon City.
With the help of funding from the Maricopa Association of Governments (MAG), plans are already in the works to add the third lane to the north- and south-bound lanes, with construction scheduled for 2021 to 2022.
• Two reversible (flex) lanes in the interstate's median from Black Canyon City to Sunset Point.
State officials say the flex lanes for the steep stretch of the interstate between Black Canyon City and Sunset Point would be available for the busiest direction of travel, or in the event of a closure.
• A northbound climbing lane between Black Canyon City and Sunset Point.
"ADOT, in conjunction with the Federal Highway Administration, has been studying options for adding new travel lanes along I-17, with a focus on the 23-mile stretch between Anthem and Sunset Point Rest Area," states a news release from ADOT.
Future improvements are also being studied for the stretch of interstate from Sunset Point to Cordes Junction.
Finances for the improvements are still be worked out, ADOT officials say. For instance, the state applied for a federal Infrastructure for Rebuilding America (INFRA) grant to pay $120 million of the cost, which would supplement the state's $180 million match.
The $300 million total is planned to build the third lane between Anthem and Black Canyon City, and the flex lanes between Black Canyon City and Sunset Point. The climbing lane in that section is not included in the $300 million, and would be part of a future project, said ADOT District Engineer Alvin Stump.
State Engineer Dallas Hammit expressed confidence that I-17 meets the INFRA grant criteria, which focuses on corridors that move the economy, as well as rural areas, and freight corridors.
ADOT submitted its grant application in fall 2017, and Hammit said the department expects to hear whether the grant application is successful by late summer/early fall of this year.
To help deal with traffic in the interim, ADOT and the Arizona Department of Public Safety have begun staging more equipment, such as front-end loaders and message boards, in strategic spots along I-17 to help deal with crashes — especially during holiday weekends.
That way, ADOT Spokesman Doug Nintzel said, "When we get word of an incident, we can get to the scene much faster. It does make a difference when a lot of traffic is using I-17."
The state has also posted radar speed signs alongside the interstate to let drivers know their speed, and to remind them of the posted speed limits.
Related Stories
More like this story
SUBMIT FEEDBACK
Click Below to:
This Week's Circulars
To view money-saving ads...