Tour jeep rollover on 89A causes serious injuries
Verde Independent
Originally Published: March 28, 2018 12:34 p.m.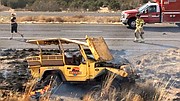 The Sedona Fire District was dispatched to 36400 SR 89A near Page Springs Road at 4:05 p.m. Saturday following a tour jeep rollover and fire.
According to a news release from Jon Davis, fire marshal for the Sedona Fire District, the accident involved a tour jeep that had been carrying six passengers plus the driver. The jeep had rolled over but came to rest in an upright position. A small brush and grass fire had been ignited as a result of the accident, the news release continued.
According to Davis, all occupants were out of the vehicle when emergency services personnel arrived. The driver had been removed from the vehicle by people at the accident scene and was subsequently transported by helicopter to Flagstaff with serious injuries.
Two other occupants were transported by ground ambulance to VVMC in Cottonwood, and four occupants refused treatment or transport, according to the news release.
"This accident highlights the importance of wearing seatbelts. Your odds of surviving a rollover accident are greatly increased by wearing your seatbelt. Nearly three quarters of people who are ejected from the vehicle in an accident suffer fatal injuries," said Davis "When worn properly, your seatbelt keeps you restrained inside the vehicle."
Rollover accidents account for only 3 percent of all motor vehicle accidents but are responsible for 30 percent of the fatalities, said Davis.
More like this story
SUBMIT FEEDBACK
Click Below to: