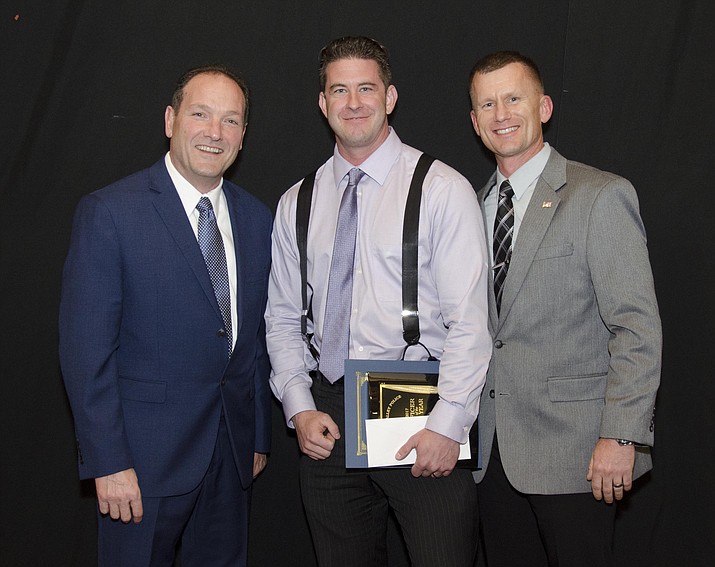 Originally Published: March 28, 2018 6 a.m.
Prescott Valley Police Department awarded outstanding officers and staff Friday evening, March 23, during its annual banquet at the Prescott Resort. Banquet attendees also enjoyed a keynote speech by Bob Welsh, an international inspirational speaker and U.S. Navy veteran who also worked at the Pentagon and spent 29 years as an Ohio state trooper, retiring as a captain.
OFFICER OF THE YEAR
The Prescott Valley Police Officer of the Year (also known as the Meritorious Service Ribbon) is awarded annually to recognize a sworn officer who has demonstrated sustained, noteworthy achievement throughout the year. Nominees were officer Tyler Brown, officer Layton Cooper and detective Matt Hepperle. Hepperle received the honor.
Hepperle, a PVPD officer for more than 14 years, has been assigned for the past six years to the Criminal Investigations Unit, where he is currently the lead police officer and senior detective. Hepperle investigates crimes against persons, including homicides, aggravated assaults and sex crimes. He also is supervisor for the Family Violence Unit, Victims of Crime Act and Victim Services units. During 2017, he was acting sergeant for criminal investigations for more than four months, training three new detectives throughout the year.

Last year, Hepperle went to trial on two child molestation cases and a homicide case. The suspect in the homicide trial pled guilty in a plea agreement and was sentenced to 31 years in prison.  One suspect in the child molestation trials was sentenced to 99 years in prison and the other was sentenced to life in prison.  The Yavapai County Attorney's Office recognized Hepperle for his complete and thorough investigations in each of these trials. 
Hepperle also coordinated an undercover prostitution detail with PVPD detectives that lead to the arrest of five male suspects attempting to engage in underage sex acts with juvenile females. During 2017, he assisted in writing two successful grants for more than $1.1 million, enabling the department to fund an additional Victim Service Specialist for three years, and an additional full-time sexual assault detective, victim specialist and administrative assistant for four years.
Hepperle is a volunteer youth sports coach, participates in Bigs in Blue and volunteers with church activities.

The Civilian of the Year honor is designed for department civilian employees who distinguish themselves by performing exceptional service throughout the year. Nominees were evidence technician Misty Edwards, Bob Steward, and Marie Yogerst, both of whom work in victim services. The honor went to Yogerst.
Yogerst is a superior victim's advocate in the Family Violence Unit. She is known for her positive attitude, ready smile, and eagerness to help no matter how daunting the task or how heartbreaking her work. She is passionate about making sure that victims of domestic violence receive all of the help they need and deserve. She treats every person with compassion and caring. She also takes an active role in department community events.
ROOKIE OF THE YEAR
The Rookie of the Year Award recognizes a probationary officer, and awards sustained, long term effort and noteworthy achievement during the officer's field training and subsequent service. This year's nominees were officers Shayleen Elenz, Branden Kelly, and Mathew Wilson. Wilson is the Rookie of the Year.
Wilson stood out for his hard work during his first year as a patrol officer. His enthusiasm for his job is contagious. In 2017, he investigated five accidents, conducted 231 traffic stops, made 132 arrests, wrote 36 field interviews, 223 reports and 60 supplemental reports, issued 79 citations, wrote 119 warnings and issued 28 repair orders.

He is proactive in traffic enforcement, drug cases, DUI enforcement and interview techniques. He is an active terrorist liaison officer, completed crisis intervention training, assisted with National Night Out, attends block watch meetings and teaches gang classes at the Northern Arizona Regional Training Academy. He is a family-oriented individual with strong values. Always willing to help other officers, he uses his knowledge to train and mentor others.
COMMUNITY POLICING AWARD
The Community Policing Award and ribbon is presented to department personnel who have solved a significant community problem, including the community in the problem solving process, and/or shown a commitment to the department's community policing philosophy. Nominees were community service officer Traces Gordon, officer Omar Hernandez, and officer Jennifer Watson. Gordon received the award.
Gordon serves the citizens of the community by leading the department Block Watch program, Business Watch, Shop Lifting Reduction Program, and National Night Out events. She organizes and facilitates CPTED (Crime Prevention through Environmental Design) meetings to inform the community and its businesses of safety concerns and methods to increase security.

She participates in the Citizens Policy Academy and Shop With a Cop, attends Coffee With a Cop events and faithfully participates in Arizona Big Sisters Program. Gordon has organized several community service events and programs in 2017 and assisted with groups that tour the department. She is willing to help with any task, and has been an invaluable asset to patrol in helping them develop and maintain relationships with the many block watches throughout the community.
SUPERVISOR OF THE YEAR
The Supervisor of the Year Award is for department sworn or civilian supervisor/sergeant rank who distinguished themselves by performing exceptional service throughout the year. Nominees were Christy Awtrey-Tieman, Sgt. Rob Brown, and Sgt. Mike Morris. Brown received the award.
Brown has spent numerous hours helping with new Tri-Tech and Traffic and Criminal Software (TraCS) systems to get them up and running. He also helped train officers on a new mobile system. During 2017, Brown assisted with 20 accidents, made 22 arrests, wrote 50 reports and supplements, issued 234 citations and 25 warnings. He is diligent, driven, and thinks of how to do things more efficiently. He supervises four traffic officers and has concentrated on increasing traffic enforcement to increase safety throughout the community. He also was instrumental in assisting with the preparation for the Governor's Office of Highway Safety (GOHS) grant, which includes the DUI grant, the Speed Detail Grant, and Know your Limit Grant. He is always willing to assist others in the department.
VOLUNTEER OF THE YEAR
The Volunteer of the Year award honors volunteers who distinguished themselves by performing exceptional service through the year. Nominees were Leonard Borok, Chris Edelbrock and Paul Molyneux. Molyneux received the award.
Molyneux has been a department volunteer for more than 15 years, putting in numerous hours on the range, building targets and assisting with the SWAT team. He has been a valuable asset on the range and with SWAT, putting in countless hours volunteering on nights and weekends, even after working his full time job.

Molyneux never misses a SWAT training. He attends SWAT schools and responded to six of the seven SWAT callouts in 2017. He works tirelessly in the shadows and does not seek recognition, always going above and beyond his duties in his volunteer work. He served 306 documented volunteer hours in 2017.

The Prescott Valley Police Department wants to thank the Prescott Police Department for protecting the community so PVPD personnel and families could attend the banquet.
Information provided by the Prescott Valley Police Department