Arizona in brief: 2 eagles found shot on Navajo Nation
Originally Published: March 27, 2018 6:01 a.m.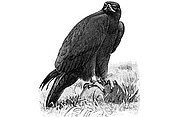 FARMINGTON, N.M. — Federal authorities are offering a reward for information regarding two eagles who were shot — one fatally — on the Navajo Nation.
The Daily Times of Farmington reports the U.S. Fish and Wildlife Service says a bald eagle and a golden eagle were found shot in different areas at the Navajo Agricultural Products Industry headquarters this month. The birds' tail feathers had been removed.
The bald eagle, found March 13, died of its injuries.
The golden eagle was found March 21 with injuries that led to the amputation of its left wing tip.
Bald and golden eagles are protected by the Bald and Golden Eagle Protection Act and the Migratory Bird Treaty Act.
Eagle parts and feathers are used in cultural and religious ceremonies in many Native American cultures.
Police: Arizona teens post photo with rifle at school
SIERRA VISTA — Two southern Arizona teens are facing charges after police say they posted an Instagram photo of themselves holding a rifle at school.
Sierra Vista police say officers came to the campus of Buena High School in Sierra Vista, Arizona on Monday following reports of the photo.
Police say the rifle ended up being an inert, non-firing replica.
The juveniles are facing disorderly conduct charges.
No other arrests were made.
Feds: 'Dreamer' tried to smuggle immigrants into US
LORDSBURG, N.M. — An immigrant with temporary protective status may lose that protection after the U.S. Border Patrol says he tried smuggling immigrants into the country near Rodeo, New Mexico.
The U.S. Border Patrol said the man was arrested March 19 after agents found three immigrants suspected of being in the country illegally inside his car.
The driver's name was not been released, but officials say he had protection under the federal Deferred Action for Childhood Arrivals program, or DACA. He had an approved eligibility status to remain in the U.S. until September 7, 2019
The U.S. Border Patrol El Paso Sector says the driver may lose that status if convicted of smuggling charges.
Arizona prisons boss set to testify at contempt hearing
PHOENIX (AP) — Arizona Corrections Director Charles Ryan is scheduled to testify at a court hearing over whether he should be held in contempt of court for falling short on promises to improve health care for prisoners.
The hearing Tuesday was called after U.S. Magistrate David Duncan repeatedly voiced frustration over what he called Arizona's "abject failure" to make the improvements it promised when it settled a class-action lawsuit over the quality of health care for inmates.
Duncan also has threatened to fine the state $1,000 for each instance during December and January in which it failed to make the improvements.
The state has acknowledged that it has more than 1,900 instances of noncompliance in December and January.
That means the state could be fined as much as $1.9 million.
More like this story
SUBMIT FEEDBACK
Click Below to: