Helping the homeless creatively
CCJ's new leader envisions end to homelessness with creative, collaborative approaches

By
Nanci Hutson
|
HutsonNanci
Originally Published: March 25, 2018 6:05 a.m.
Jessi Hans is a believer in the divine dignity of every man, woman and child.
So when life delivers folks a tough blow she sees it as her role to help pick them up again.
Shirley Hollingsworth, 56, homeless for a decade, is one who will attest to Hans' compassion for those who others might brush aside because of their addictions or mental illnesses. Thanks to Hans' intervention the woman who has long suffered with addiction and physical and mental health ailments no longer is forced to sleep in the cold or in the shelter. Hollingsworth now has her own rehabbed, 13-foot former RV where she can come and go with the support of Hans and other CCJ staff.
"Others have kicked me out, but Jessi never kicked me out," Hollingsworth said of CCJ's new executive director. Hans, 37, came to CCJ as the assistant director a year ago February and was promoted with the resignation of her predecessor Paul Mitchell in December. "She treats people with kindness, all kinds of people. I've never seen her go off the deep end.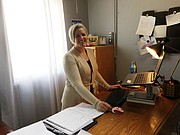 "Even when (shelter clients) aren't kind, she's always kind. She understands. She's a real good person, one of my favorites."
Fellow homeless advocate, Carole Benedict, executive director of U.S. VETS, said Hans is "one of my favorite people ever."
"She is such a good fit for CCJ and they are so lucky to have her in that role as the perfect succession to Paul, not only to help carry on his vision, but also to grow the organization with her own wisdom and fire for social change," Benedict said. "Jessi is committed to serving the most vulnerable citizens in our community by addressing complex and diverse issues such as poverty, homelessness, hunger, and meaningful accessible work opportunities for those who are experiencing high barriers to employment.
"Jessi leads with grace, integrity and compassion, and she is truly the epitome of a change agent and an incredible asset to the community."
From Britt, Iowa, Hans earned a bachelor's degree in fine arts from Northwest Missouri State University. Upon graduation, though, she accepted a job working with adjudicated youth. She found she enjoyed helping people make decisions on how to improve their lives.
She moved to Arizona to take a team leader position at Mingus Mountain Academy, a therapeutic program for adolescent girls. She worked there for 11 years, five of them as a company trainer and consultant. She introduced her clients to the power of making art murals.
From there, she spent four months as a residential director at a Prescott rehabilitation center.
But she wanted something more.
"I wanted more than a job, I wanted a calling," Hans said.
That coincided with CCJ's hunt for a new administrator.
After five-minutes with her predecessor, Hans recalled Mitchell saying to her, "So, this is what we're about. Are you in?"
She nodded.
From the start, Hans said she was encouraged to "think out of the box" and no matter how bizarre an idea might seem she was encouraged to talk it over with CCJ staff to see if it might "make sense."
CCJ is an agency where staff, many of them current or former clients, treats all comers as people worthy of second chances and opportunities beyond what they might see for themselves.
"We can see the beauty in people who are broken because we're just as broken as anyone else," Hans said. "Horrible things happen, but we can choose to see the world differently … We're only damaged as long as long as we think we are."
She counts Hollingsworth as a model.
Hans was able to look beyond the woman's combative nature to forge a relationship that led her to a permanent home through the agency's Second Chance Housing program – one that rents donated and rehabbed recreational vehicles to homeless men and women.
At this time, there are 15 in four different parks. Another 15 have been purchased by their occupants.
"She (Hollingsworth) looks at hers as a mansion," Hans said. "She now has a glow about her because she has no need to fight for her dignity anymore."
Many people who experience bouts of poverty or homelessness "lose their resilience," Hans said.
Hans wants people to know no one is "locked in defeat."
Failure often leads to success, she said. Just ask any artist, inventor or chef, she said.
"We want to create a culture of people who have that view of failure," Hans said.
Growing up, Hans said she always encouraged others to "do the right thing."
A woman of faith, Hans, with her wife, Leah, strive to instill those values in their three children: Keegan, 9, Sailee, 5 and Jonas, 3.
She said she wants her children to care more about "people's hearts than about the things you can gain in the world."
Going forward at CCJ, Hans said the agency intends to remain client-centered.
"We need to ask our clients about what they see as our mission," said Hans, who is part of a homeless coalition that envisions ending homelessness as it exists today within two years. "When our clients' needs change, so will we."
More like this story
SUBMIT FEEDBACK
Click Below to:
This Week's Circulars
To view money-saving ads...