Days Past: Whiskey Row's Buckey O'Neill, part two
Brad Courtney, Special to the Courier
Originally Published: March 25, 2018 6:05 a.m.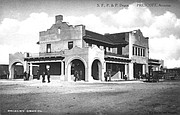 Buckey O'Neill, Yavapai County Sheriff in 1889, led a four-man posse that same year into northern Arizona. It captured four cowhands who'd robbed a train near Diablo Canyon. One of the outlaws, J. J. Smith, escaped while en route to Salt Lake City. Eventually, Smith was recaptured and hauled to Prescott to stand trial. While Smith was loose, the other three outlaws were tried and convicted, but were needed to testify in Prescott and were thus carted up from Yuma.
Bill Crocker was a young boy when the convicts arrived in Prescott. A large crowd had gathered at the train depot on Sheldon Street to get a glimpse of the infamous trio. When it came time to take the prisoners to the county courthouse jail, they were delivered in an open carriage. The feisty Crocker jumped on the back and rode right up to the courthouse steps, earning him a front row view of the bad men.
Crocker, during an interview given years later at St. Michael's Hotel, related, "one of the robbers, irritated by all the attention they were receiving, lashed out with his foot and gave me a kick in the pants and swearing at me to, 'Get the hell out of here.'"

Buckey had heard rumors that the robbers' friends were going to attempt to liberate them. During the evening of November 19, 1898, he placed extra guards around the jail and sent extra watchmen to patrol Whiskey Row.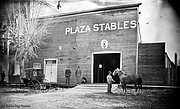 The way this jailbreak was attempted would come as a surprise. Around six o'clock, the first alarm sounded. A fire had been spotted behind the Palace Saloon, then being run by D. C. Thorne. After the incipient flames were suffocated, the first red flag was discovered. Beneath the saloon's floor were areas saturated with coal oil. Some on the scene surmised it had come from an exploded lamp. Chief of Police James Dodson's suspicion was aroused immediately, however.
Within forty-five minutes of the first fire and less than one hundred feet away, a second fire was spotted behind D. Levy's store. It too was quickly subdued.
Three hours later, around 10:15, another alarm. Sloan's Plaza Stable on Goodwin Street was ablaze. The flames were already shooting through the stable's roof. The opera house adjoined to it also caught fire and couldn't be saved, but the fire stopped there. One report said that eighteen horses perished.
Some saw it as a freak occurrence that established a record for Prescott; three fires in four hours. It quickly became a theory, however, that they were set hoping to draw Buckey and his guards away from the jail. O'Neill didn't bite, and no escapes were made.
Bill Crocker later stated, "They placed oil soaked rags under many of the business houses on Whiskey Row. If Smith's friends had succeeded in setting all the fires [they'd planned to set] Prescott would have had its big fire ten years sooner."
Smith was sentenced to thirty years, but the incendiaries were never caught. Locals were especially angry because horses had died in such a horrible way. O'Neill was charged with bringing the four criminals to the Yuma prison. He enlisted Chief of Police James Dodson to help him with the escort. Crocker noted, "Realizing the type of men with whom they had to travel, the train robbers created no disturbance and were delivered without disturbance."
After his two-year term as sheriff, Buckey endeavored in several fields, including white onyx mining and the hotel business; he and wife, Pauline bought a two-thirds interest in the Burke Hotel. In 1898, he was elected mayor of Prescott. Within months, President William McKinley decided America should intervene in Cuba's struggle for independence from Spain. Buckey was the first to enlist in Theodore's Roosevelt's famous Rough Riders regiment.
Leading his men just before the Rough Riders made their famous charges up San Juan and Kettle Hills, a Spanish bullet he'd said he was immune to struck him down. Colonel Roosevelt wrote: "As he turned on his heel a bullet struck him in the mouth and came out at the back of his head, so that even before he fell his wild and gallant soul had gone out into the darkness." Contact Brad Courtney at whiskeyrowbooks@gmail.com for a free Whiskey Row History Walking Tour.
"Days Past" is a collaborative project of the Sharlot Hall Museum and the Prescott Corral of Westerners International (www.prescottcorral.org). This and other Days Past articles are also available at www.sharlot.org/library-archives/days-past. The public is encouraged to submit proposed articles to dayspastshmcourier@gmail.com. Please contact SHM Library & Archives reference desk at 928-277-2003, or via email at dayspastshmcourier@gmail.com for information.
More like this story
SUBMIT FEEDBACK
Click Below to: