'Ban the Box' Is it working?
Governor signed order stopping state from asking potential new hires about criminal record in November
Originally Published: March 25, 2018 6:05 a.m.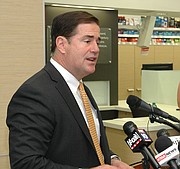 In November, Arizona joined more than two dozen other states in giving convicted felons a better shot at getting a job.
In an executive order, Gov. Doug Ducey directed state personnel officials to "ban the box," deleting questions on initial job applications about whether a person has a criminal record.
The topic can still come up, but, Ducey said, at least the applicant will not be dismissed as easily.
"This is to allow people that have paid their debt to society, who have served their time, to have some hope of a job or a career or an opportunity," Ducey said.
Twenty-nine state governments have similar policies, and, of those, nine states even make it illegal for private employers to ask the question.
Tucson, Tempe and Phoenix have similar policies, as does the Town of Prescott Valley, which actually banned the box years before Ducey's move, in 2012, said Karen Smith, the town's Human Resources director, although she noted that it is still on applications for police officers.
The City of Flagstaff in 2017 also took the question, "Have you ever been convicted of or pled guilty to an offense as an adult, including DUI and reckless driving offenses (excluding minor traffic violations)?" off its applications.
But in the Quad Cities, the idea hasn't yet trickled down to most local governments.
Yavapai County still asks the question, noting on the form that "Convictions are evaluated in relation to a position and will not necessarily disqualify employment."
Prescott and Chino Valley applications ask the same question, with the same sort of caveat on the form.
"There has not been any discussion regarding this topic," said Laura Kyriakakis, Chino Valley's human resources director, "I think primarily because it has never posed an issue for the town that I am aware of."

The order did not affect private companies, something Ducey acknowledged last year.
"I don't set policy for private employers,'' he said. "We're trying to lead the way in terms of examples from state government.''
There's no way to tell how many businesses might have voluntarily followed suit with Ducey's order — or would go along with such a proposal, were it applied to them, but Professor Eric Knott of Arizona State University's W.P. Carey School of Business said, "Many employers in the private sector have already removed the conviction question from their application … particularly larger employers."
The potential employee isn't asked up front about criminal convictions, he said. "But it does get asked … it doesn't happen before the applicant is brought in for interviews, and that's the concern.
"It's being asked when the job offer is being made, so at that point, the argument is, the employer is going to be far more patient with somebody if they do have something in their background, because they've fallen in love with them already — they've offered them the job," Knott said.
More like this story
SUBMIT FEEDBACK
Click Below to:
This Week's Circulars
To view money-saving ads...