Roundup: Duke turns back Orange 69-65, sets up matchup with Kansas
College Basketball: NCAA Tournament
Originally Published: March 23, 2018 11:20 p.m.
Duke turns back Orange 69-65, sets up matchup with Kansas
OMAHA, Neb. — Duke found a way to crack Syracuse's zone defense, and now the Blue Devils are a game away from the Final Four for the first time since the 2015 team won it all.
Gary Trent Jr., made two clutch free throws with 6.3 seconds left to help second-seeded Duke hold off the 11th-seeded Orange for a 69-65 chess match of a victory in the Midwest Region semifinals Friday night.
All that talk about busted brackets and the maddest March ever — not happening in the Midwest.
The win by Duke (29-7) set up a 1 vs. 2 showdown Sunday against Kansas, which also escaped with a four-point victory earlier against Clemson.
Syracuse (23-14), the last at-large team invited to the tournament, saw its unlikely run to the Sweet 16 end — unable to overcome 16 turnovers against a Mike Krzyzewski-designed zone that was every bit as pesky as Jim Boeheim's vaunted 2-3.
Early in the second half, Krzyzewski tore off his jacket and threw it to the floor, calling a timeout after Syracuse scored two quick baskets to trim its deficit to three.
"It set the tone for me," said Coach K, who has two freshmen, Marvin Bagley III and Wendell Carter Jr., who will likely be NBA lottery picks later this spring. "You could see. I coach 'em, so I could see, they were real young. They had young looks. Thank goodness they got out of it."
Syracuse was looking for a near-repeat of two seasons ago when it made the Final Four as a 10 seed. This year, the Orange was an 11, but the Elite Eight already has one of those — Loyola-Chicago in the South.
Syracuse is no typical 11, and this was a zone-centric battle of wits between two of the most renowned coaches in the game.
No lead ever reached double digits, and not until Trent Jr. swished his free throws was the game sealed for Duke, which will try to take Krzyzewski to his 13th Final Four.
Bagley III scored 13 of his 22 points and had all eight of his rebounds in the second half. Seven of those boards were on the offensive end and led to second-chance baskets.
Tyus Battle led the Orange with 19 points.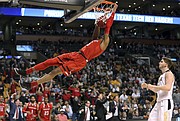 Beard, Texas Tech oust Purdue 78-65 in NCAA East Region
BOSTON — Chris Beard has done it to Purdue again.
The Texas Tech coach knocked the Boilermakers out of the NCAA Tournament for the second time in three years, this time leading the third-seeded Red Raiders to a 78-65 victory in the Sweet 16. Keenan Evans scored 12 of his 16 points in the second half, when Texas Tech scored 11 straight points to pull away.
The Red Raiders (27-9) will play No. 1 seed Villanova on Sunday in the East regional final for a spot in the Final Four. The Wildcats advanced earlier Friday night with a 90-78 victory over West Virginia.
Beard is in his second year in Lubbock after leaving Arkansas-Little Rock, where he led the Trojans to a double overtime upset over fifth-seeded Purdue in the first round of the 2016 NCAA Tournament.
This time, No. 2 seed Purdue (30-7) was hoping to join Villanova in the Elite Eight, getting 30 points from Carsen Edwards and 12 points and 13 rebounds from Vincent Edwards.
But Beard was in their way again.
Texas Tech trailed for most of the first before scoring the last 10 points of the half to turn a five-point deficit into a 30-25 lead. The Red Raiders led 58-55 with 5:44 left when Evans hit two free throws and then a three pointer to start an 11-0 run that put the game away.
Purdue star center Isaac Haas, the team's No. 2 scorer and rebounder, could only be a cheerleader — and a one-armed cheerleader, at that. After breaking his right elbow in the first-round game against Cal State-Fullerton, he tried to convince Painter he could play; the Purdue engineering department even pitched in, designing a special brace for his right arm.
But Haas remained on the bench, replaced by Matt Haarms, a redshirt freshman who at 7-foot-3 measures an inch taller but at 40 pounds lighter is hardly the force under the basket of that his senior teammate has been.
Haarms finished with four points and three rebounds.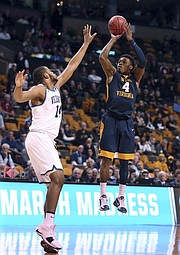 Villanova back in Elite 8 as 3s spoil W. Virginia pressure
BOSTON — Villanova's 3-point party rolled past the intense pressure of West Virginia to bring the Wildcats to the doorstep of another Final Four two seasons after winning a national championship.
The top-seeded Wildcats continued their outside feast in the NCAA Tournament, downing the fifth-seeded Mountaineers 90-78 on Friday night to earn their second trip to the regional finals in three seasons.
Jalen Brunson led Villanova with 27 points and Omari Spellman had 18 with eight rebounds as Villanova overcame the West Virginia press by hitting 13 of 24 shots from 3-point range.
Daxter Miles had 16 points to lead West Virginia. Jevon Carter and Sagaba Konate added 12 each.
Villanova (33-4) has now made 44 3-pointers for the tournament. The outside barrage helped the Wildcats overcome 16 turnovers and played into their Sweet 16 plan for their opponents nicknamed "Press Virginia": Attack the stifling defense head-on.
"What a game, man. I hope that looked as good as it did from the bench, man," Villanova coach Jay Wright said. "That was the most physically demanding, mentally draining 40 minutes we've played in a long time. They are so relentless."
The Wildcats struggled at times, especially in the first half, but dug out of a six-point hole in the second half with an 11-0 run.
The Mountaineers (26-11) stayed close throughout, ramping up the pressure and making Villanova play faster than it wanted to early. But foul trouble throughout the second half was too much for West Virginia to overcome after it gave up the lead.
Carter was called for his third with 17:33 left in the game. That was followed by Miles being whistled for his third and fourth fouls over a two minute stretch that sent him to the bench with 15 minutes remaining.
Coach Bob Huggins said the fouls "absolutely" stifled the Mountaineers' ability to keep pressure on Villanova.
West Virginia adjusted for a while, taking advantage of a more than three-minute Villanova scoring drought to take a 60-54 edge with just over 11 minutes left.
But Villanova heated up again. Its 11-point run was capped by a thunderous block and dunk on the other end by Omari Spellman that pushed the Wildcats back in front 65-60.
The Wildcats kept the momentum going, stretching the lead to 76-66 on a 3-pointer by Brunson.
West Virginia never got closer than 4 points the rest of the way.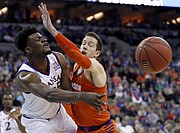 Kansas holds on for 80-76 win over Clemson
OMAHA, Neb. — For the third year in a row, Kansas made it through the Sweet 16 — although not before Clemson tried its hardest to add another wild chapter to an already unbelievable tournament.
The top-seeded Jayhawks brought at least a temporary halt to the insanity of this March, withstanding a ferocious rally by fifth-seeded Clemson on Friday for a too-close-for-comfort, 80-76 victory.
Malik Newman led the Jayhawks (30-7) with 17 points in a one-time runaway that got much closer and, quite frankly, won't mean much to KU fans if their team can't finish the job in the Midwest Region final Sunday.
As a top seed the last two seasons, Kansas made it through the regional semifinals, only to flop a game shy of the Final Four both times. In fact, this marks the sixth time Bill Self's team has been seeded first since KU won it all in 2008; the Jayhawks haven't made the Final Four one of those times.
"I think about it all the time. I just told the guys in the locker room...this year, we've got to get over the hump," said senior Devonte' Graham, who had 16 points.
Still, it could've ended on Friday — in horrifying fashion — after Clemson stormed back from a 20-point deficit that stunned a crowd filled mostly with fans from Lawrence and surrounding areas, which are only a few hours from Omaha.
"We just kind of played not to lose down the stretch," Self said.
Gabe DeVoe had a career-high 31 for Clemson (25-10), which couldn't replicate the magic it showed in beating Auburn by 31 to reach its first Sweet 16 in 21 years.
More like this story
SUBMIT FEEDBACK
Click Below to: