Kiwanis holds its 70th annual auction

Originally Published: March 23, 2018 6:04 a.m.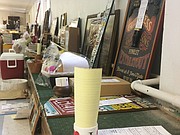 Hundreds of items are set to be auctioned off at the Kiwanis Club of Prescott's 70th annual auction with all the money going to children's organizations throughout the county, according to Gary Ballard, the auction's facilitator.
The auction is held from 7 to 10 p.m. every weeknight during the weeks of Monday, March 26 to Friday, March 30 and Monday, April 2 to Friday, April 6.
Some of the more unique items are memorabilia that had previously hung on the walls at Hooligan's Pub, Ballard said. Hooligans closed its doors at the beginning of 2016 after a final New Year's Eve celebration
"When Hooligans closed their doors for business, they had a plethora of memorabilia on the walls, advertising beer signs that dealt with the Irish," he said. "They donated all of that artwork and memorabilia to the auction this year, which is quite unique because the artwork is so unique and the memorabilia is so unique."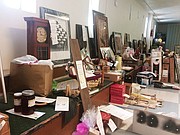 Ballard said he hopes people who frequented Hooligan's Pub will feel some connection to the artwork as it's auctioned off.
Other items in this year's auction include other artwork, license plate signs, wooden ships, decorative pieces, a large clock and much more. The goal this year is to raise at least $187,000, Ballard said. The largest amount ever raised at one auction was $198,000 a few years ago, he said. The first auction 70 years ago raised around $1,200 and back then it included live animals, Ballard said.
All the money raised from the auction goes to children's organizations throughout the county, Ballard said.
"The members of this club spend thousands of volunteer hours to put this thing on and to collect all the merchandise," he said. "We do it because it helps the kids of the community."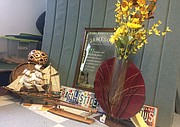 Those looking to catch the auction can do so by streaming it live at www.prescottkiwanisauction.com or by watching live on Channel 64. There's going to be about 200 items auctioned off every night, Ballard said.
You can also view the auction live at this link on dCourier.com each day.
Those interested in seeing what's available for auction can visit the Grace Sparkes Activity Center, 824 E. Gurley St. until 6 p.m. the days of the auction and items can continue to be brought in for auction until the last day.
For more information, contact 928-445-8700.
More like this story
SUBMIT FEEDBACK
Click Below to:
This Week's Circulars
To view money-saving ads...