Should cars drive themselves?
'Unfair' to assume human safety driver could have taken over, says ERAU professor
SCOTT ORR and MAX EFREIN, The Daily Courier
Originally Published: March 22, 2018 6:01 a.m.
In the wake of the fatal crash on Sunday, March 18, in which a self-driving Uber vehicle struck and killed a pedestrian in the Phoenix suburb of Tempe, some people are questioning whether autonomous-vehicle technology is ready for the road.
The Volvo was in self-driving mode with a human operator — Rafaela Vasquez, 44 — behind the wheel at about 10 p.m., when it struck a woman walking a bicycle across the street outside of a crosswalk, police said. The woman, identified as Elaine Herzberg, 49, died at a hospital.
The idea of having a person in an autonomous vehicle to keep it from doing unexpected or dangerous things has never been a foolproof one, notes Dr. Sam Siewert, professor of software engineering at Embry-Riddle Aeronautical University in Prescott.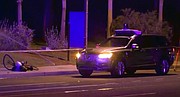 "If the driver is expected to participate (in the control of the vehicle), then you have to keep them participating," said Siewert. "If the driver has become accustomed to not having to provide their full attention because the autopilot is functioning correctly, in some ways, it's almost unfair to assume the driver can take over control of the vehicle that quickly."
There have been other, non-fatal, crashes of self-driving cars with safety drivers in them, including one in California, where the car in January struck a fire engine at the scene of an earlier crash.
Siewert pointed out that, given some of the circumstances of the fatal accident in Tempe this week — it was at night, and the victim was crossing the street outside of a crosswalk — it's possible that even a driver "who was paying full attention might not have seen the pedestrian."
"Even though it sounds cold, you really need to appeal to statistics over time," Siewert said.
Meanwhile, Uber has suspended all of its self-driving vehicle testing in the Phoenix area, Pittsburgh, San Francisco and Toronto.
Reader poll
Yes, I would feel comfortable riding in a self-driving car

10%

No, I would not feel comfortable riding in a self-driving car

47%

I would feel safe as a pedestrian or bicyclist with self-driving cars on the road

6%

I would feel unsafe as a pedestrian or bicyclist with self-driving cars on the road

37%
1240 total votes.
The testing has been ongoing for months as automakers and technology companies compete to be the first with the technology.
But Prescott Valley Vice Mayor Lora Lee Nye said she does not support testing the autonomous vehicles in her town. "That technology is impressive but not ready for 'prime time,'" Nye said. "As to our area, we have many transportation issues that I do not believe are conducive to safely testing self-driving vehicles."
Prescott Valley resident Frank Fittipaldi, a former commercial-vehicle driver, said he is curious about the technology, but would have to experience it firsthand before formulating any firm opinion on whether he's comfortable with it.
"I would have to see it to believe it," Fittipaldi said. "I would have to be in one of these vehicles and go for a test drive."
Chino Valley Mayor Darryl Croft said he's opposed to autonomous vehicles being tested on Arizona's roads. And Chino Valley Police spokesman Lt. Vince Schaan expressed concern over how self-driving cars would operate on rural roads.
"I've seen the vehicles in Tempe, and our roads don't have center or any lane markings, outside of a couple here and there," Schaan said. "Also we don't have curbs, stop lines, and so on. So, how does that affect the operation, if at all?"
Schaan noted that "the utilization of autonomous vehicles is on the latest version of the ADOT crash form … so the state is planning for this."
Related Stories
More like this story
SUBMIT FEEDBACK
Click Below to:
This Week's Circulars
To view money-saving ads...