By
Max Efrein
|
mefrein
Originally Published: March 21, 2018 6:05 a.m.
With a stern tone, veteran firefighter P.J. Lingley described fire-shelter etiquette.
"We don't joke about [fire shelters]," Lingley said.
He was speaking as a volunteer instructor to about 100 students taking Firefighter Training, the most basic course offered by the Arizona Wildfire and Incident Management Academy (AWIMA). The nonprofit academy kicked off its 16th year of operation in Prescott on Saturday, March 10, and wrapped up the session on Friday, March 16.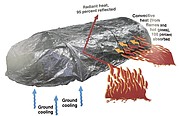 Fire shelters have been used by firefighters since the 1970s, but the tragedy of 2013, when 19 firefighters died in the shelters that were expected to protect them, remind us of the significance of these shelters, as well as their limitations. In fighting the Yarnell Hill Fire, the Hotshots had deployed their shelters, but the protective material was unable to withstand the 2,000 degree Fahrenheit heat that consumed the shelters and the firefighters.
Today's shelters – adopted by the U.S. Forest Service in 2002 – are tent-like safety devices that consist of two layers and are designed to reflect radiant heat and trap breathable air.
Those within the wildland fire industry used to refer to the shelters as "shake 'n' bake" because of how they're deployed and used, but Lingley said that's no longer tolerated. Nowadays, joking about the shelters can result in a student being expelled from an academy or a firefighter losing a job.
"That's where we're at," Lingley said.
Safety-oriented culture
While jovial in nature, the AWIMA presented several sobering moments to its attendees.
Beginner firefighter students are drilled with the 10 Standard Firefighting Orders and the 18 Watch Out Situations. Each was developed in lessons learned from fatal accidents, Randy Chevalier, another veteran firefighter who volunteered as an instructor for AWIMA this year, told the students.
"They were written in blood," he said.
Most are straightforward, such as the Order, "Know what your fire is doing at all times," and the Watch Out, "Wind increases and/or changes direction," but all serve as key reminders on how to extinguish a wildfire as quickly as possible while prioritizing safety.
"Firefighter safety is paramount to anything else we do," said Tony Sciacca, AWIMA's executive director. "If you're on an engine crew or hotshot crew, you have personal responsibility for your safety and then you have crew leaders that are responsible for your safety as well."
It's also outlined in the Incident Response Pocket Guide – which wildland firefighter's are encouraged to carry at all times during field operations – that every individual has the right to refuse an assignment and offer alternatives if they deem the assignment unsafe.
"At the end of the day, you have to make sure everything kind of lines up for you," Sciacca said.
If it's not fun, don't do it
Wildland firefighting is dirty work. It can involve long-hours and can be both mentally and physically draining. If firefighters become complacent, they can get hurt or killed and can also become responsible for the injury or death of fellow firefighters.
On the flipside, wildland firefighting provides the opportunity to chase after fires, protect the public and get paid to spend time in the outdoors.
Speaking to one of the groups that was taking Firefighter Training at AWIMA on Tuesday, March 13, veteran firefighter Marty Cole recommended they be realistic about what they want out of firefighting if they choose to seriously pursue the occupation.
"If you're not having fun, you're in the wrong profession," Cole said.
Related Story
A reporter pursues first-hand knowledge of the beat he covers
https://www.dcour...">Why I attended basic wildland fire training
And if there is an initial love for the work, but that love fades, it's time to get out, he added.
"Otherwise, you'll be miserable," he said.
Cole also encouraged the students to try different things within the firefighting profession.
"There are so many things you can do," Cole said. "Don't just do one thing. Jump around. Travel the country. That's been the best part of the job for me. I've seen some of the coolest places and been to just about every park out there. Take advantage of that."
Related Stories
More like this story
SUBMIT FEEDBACK
Click Below to:
This Week's Circulars
To view money-saving ads...