Prescott woman wins at world championship in country dance
Kendra Cordova, Special to the Courier
Originally Published: March 18, 2018 6:02 a.m.
Accomplishments
• UCWDC World Champion 2018 Pro-Am Female Silver Newcomer Division held in San Francisco, California. Christy McKnight and Ronnie DeBenedetta
• UCWDC World Champion 2018
• AZ State Champion Arizona Two Step 2015 held in Scottsdale, Arizona. First place, first competition. Christy McKnight and Dave Goad.
• First Place Champion overall 2016 in regional competition Albuquerque Dance Fiesta, New Mexico. Christy McKnight and Ronnie DeBenedetta.
Prescott's Christy McKnight has always loved trying new things. A former bank worker, she changed her career path and has spent the past five years as a full-time nurse, helping those in need.
But it's a tough job, and she often found herself worn out after work. That was, until she saw an ad for ballroom dance lessons at the Prescott Adult Center.
Excited to start something new, she signed up, eager to learn and have a good time. She found the classes to be just what she needed. And after getting the basics down, she wanted to push herself and really become involved in her new hobby.
That was when Ronnie DeBenedetta approached her about trying competitive dance.
The styles range in everything from Waltz, to Cha Cha, to Country Triple Two, and she loved it all. Her first United Country Western Dance Council competition was the Arizona State Championship for Two Step in 2015. Christy and her partner, David Goad, won the championship in their division, which fueled her passion for dance even more.
Next came world championship competitions. Ronnie became her partner for these, and after months and months of training, she was ready.
In 2017, they were set to compete in the world championships. But just before the competition, Christy broke her foot. Even so, she attended the competition and they managed to place fifth in their division.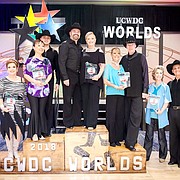 This was a major triumph for her, and she was already excited to go again, she said.
The world competitions bring together dancers from every corner of the world including South America, Europe, and all over the United States. The dancers are separated into different categories by age and dance level, allowing dancers anywhere from age 8 to 80 to show off their skills.
However, the dancers who represent the US are often from larger cities such as Atlanta or New York. This is one reason Christy has been so enthusiastic about these competitions: she loves Prescott. This is her home, and her entire family, both her kids and her parents, reside here as well. On major platforms like this, smaller towns and cities, like Prescott, aren't usually represented. But she was proud to step up and show them what Prescott dancers could do.
"I'm so glad to be representing Prescott, AZ," she explained, "This dance has put Prescott on the map."
She attended worlds again in January 2018 in San Francisco, this time without injury. Ronnie was once again her partner, and they did amazingly, she related. Christy competed in the Female Newcomer Silver Division, and this time they won first-place honors.
Now at world championships, Prescott is on the list of places where the best dancers come from. And this means the world to Christy.
But she doesn't just do it for the competitions and the medals. Christy explained that her love of dance also comes from her years as a nurse.
"It's so good for you. It can help with arthritis, and sharpening your mind," she said. "You can do it forever."
She added that she recommends it for everyone of any age. She believes everyone who is interested, and should find a local place to try dance classes. For those who want to really get into the dance life, she stands by Ronnie's classes at the Prescott Adult Center.
Students from all over the state, some as far away as Phoenix and Tucson travel to take his classes. He is the best of the best, and now, so is Christy.
Christy also thanks her patients. She says they cheer her on and act as a little fan club of her dancing skills. When they are unable to dance, Christy goes out on the floor, and dances for them.
More like this story
SUBMIT FEEDBACK
Click Below to: