Hospital president shares pride in YRMC's 75-year past as predictor of future progress
Shepherd of health care

By
Nanci Hutson
|
HutsonNanci
Originally Published: March 18, 2018 6:04 a.m.
As the shepherd of Prescott's main health care institution, John Amos sounded like a proud coach as he hailed the progress and medical advances of Yavapai Regional Medical Center over the last 75 years.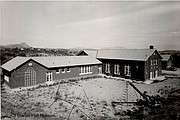 "We are so blessed to have YRMC here," declared Amos, the president and chief executive officer of Yavapai Regional Medical Center, to a Lunch and Learn group of the Osher Lifelong Learning Institute at Yavapai College. Amos' talk was arranged through the area League of Women Voters. "I love to talk about our medical center."
YRMC celebrated its 75th birthday on March 1.
Amos is one of a number of hospital leaders, donors and volunteers devoting time to spread the hospital's anniversary campaign message: "Yesterday, Today and Tomorrow." YRMC is planning a series of celebratory events over the course of the year.
HISTORY TIMELINE
In 1876, Ulysses S. Grant was president and the Sisters of Mercy in Prescott opened the city's first hospital down a dirt road reached by traveling down Gurley Street and turning onto Grove Street, Amos described as part of a PowerPoint presentation. A few of the bricks from that early medical facility remain to this day, he said.
In 1940, the Mercy Hospital burned down; it proved a milestone in the hospital's future, Amos said.
Three years later, the Prescott Community Hospital opened with 57 patient beds in what was the Old Jefferson schoolhouse on Marina Street.
YRMC 2017 highlights
956 babies born
1.2 billion gross revenues
11,430 in-patients
71,887 emergency room visits
170,920 physician visits
Specialty facilities:
BreastCare Center on east campus
Family Birthing Center with Level 2 Nursery on east campus
Infusion Center on east campus
James Family Heart Center with capabilities of open heart surgery, thoracic surgery, and a $6 million, 1,800 square-foot hybrid operating suite for interventional electrophysiology. In 2012, the first cranial neurosurgery was performed on the west campus
Vein Center in Prescott Valley to benefit those with diabetes and other circulatory issues
The Del E. Webb Outpatient Center in Prescott Valley
A Physician's Network with 70 providers
16 clinics throughout the area
U.S. News & World Report rated YRMC among the top 10 hospitals in the nation in 2012
At that time, the city of Prescott had about 2,000 residents, gasoline was 15 cents a gallon, and a new home cost $3,600.
By 1962, Prescott was part of the Central Yavapai Hospital District, and residents approved a bond issue to build a new hospital on Willow Creek Road, on the 14-acre property where the west campus is today. In 1964, the hospital was renamed Yavapai Community Hospital; two decades later it became Yavapai Regional Medical Center.
From its very beginning, YRMC has been a non-profit community hospital operated with a Board of Directors. It paid off its initial debt, and remains financially strong today, pumping more than 1.2 billion dollars in gross revenues into the economy. Hospital costs are paid for through patient revenue and private donors, not by taxpayers.
And Amos told his audience of about 30 people he has no anticipation that will change.
"We want to control our destiny," Amos said.
MAKING PROGRESS
In 1989, the hospital again responded to growth by building a new patient tower, the first of two such towers, and had a 79-bed capacity.
Hospital growth continued with the opening of the Del E. Webb outpatient center in Prescott Valley in 1997 and another four-story addition to the main campus, bringing the total number of in-patient beds to 140 with expanded surgical services.
Then in 2006, the hospital made yet another big move, raising some $8.2 million to build an east campus on 27 acres in Prescott Valley with 50 beds; Amos was the campus administrator before he was promoted to his current post.
Amos' remembers opening day. A ribbon-cutting was scheduled but at 6 a.m. a man with a shoulder injury knocked on the emergency room door.
From that moment until today, Amos said the east campus hospital has been open on a 24/7, 365-day-a-year basis.
A year later, the west campus celebrated the opening of The James Family Heart Center, offering patients in this region open-heart and thoracic surgery.
Since then, progress has been ongoing at both campuses; with additional medical services and technology. The east campus boasts the BreastCare Center and Family Birthing Center; the west campus in 2015 opened a $6 million hybrid operating room suite thatenabled the hospital to offer interventional electrophysiology. In addition, the suite is able to accommodate patients who require heart and valve repairs but are not candidates for bypass surgery, Amos said.
YRMC today is the largest local employer with over 1,970 hospital staff, 250 doctors with hospital credentials, and some 700 volunteers who have donated some 120,000 hours.
The hospital's volunteer force is a "litmus test for how well we're doing in the community; they are precious to us," Amos said.
As the area continues to grow, the hospital expects to expand to meet the demands, with the James Family donating some 172 acres just a mile south of Chino Valley.
In the coming year, Amos said residents will see construction on the west campus in the parking lot area between the main building and the YMCA. The latest project will be an outpatient and physician services complex.
Prescott newcomer Ritch Steven attended Amos' lecture and was impressed with YRMC's commitment to meeting the health care challenges of today.
A retired health care executive, Steven said he was especially grateful to hear of YRMC's commitment to physician recruitment and establishing a reputation of excellence with all their specialty care facilities. Most people are unaware of the caliber of a hospital "until they have to use it," Steven said.
More like this story
SUBMIT FEEDBACK
Click Below to: