Prescott Gateway Mall's new owner works to resurrect dying malls, with mixed results
High risk, what reward?
Originally Published: March 18, 2018 6:04 a.m.
Properties Kohan has bought
• In 2009, Kohan Retail Investment Group purchased the Northland Mall in Minnesota, which had an asking price of $2.7 million, for $1.8 million.
• In 2012, Kohan bought the Southshore Mall in Aberdeen, Washington, valued at $7.5 million, for $1 million.
• Also in 2012, Kohan acquired the Lincoln Mall in Illinois at a foreclosure sale for just $150,000.
• In 2014, Kohan bought the Rotterdam Square shopping center in upstate New York, valued at $30 million, from Macerich, for $8.5 million.
• In 2016, Kohan paid $3.5 million for the Berkshire Mall in Massachusetts, valued at $33.5 million.
• Also in 2016, Kohan spent $2.5 million to buy the Washington Square Mall in Indiana, valued at $14 million.
The new owner of the Prescott Gateway Mall and his company have a history of buying up troubled malls at bargain-basement prices with plans to turn them around.
It all comes with inherent risks.
They have had trouble paying some bills on those properties, while experiencing successes too.
Kohan Retail Investment Group, of Great Neck, New York, is owned by Mehan Kohansiek, who goes by the name Mike Kohan. The firm paid $8.8 million for the Gateway Mall, about half the $16.3 million the Tabani Group, headquartered in Dallas, paid for it in 2012.
Kohan said he works to rejuvenate the malls he buys.
"I'm doing my absolute best to try to bring those malls to the right track," he said. "Some of them cannot be saved. Sometimes, you figure that out after (the purchase). Sometimes, you know the challenges ahead of time, but you take the risk.
"It all depends on each deal."
Late taxes and lawsuits
Kohan has been the subject of lawsuits and has had trouble paying taxes on some of his shopping malls.
Last year, the Washington Square Mall was $627,789 in tax arrears from 2016, and according to news media reports, is close to being auctioned off to pay the outstanding balance.
The Orchards Mall in Benton Harbor, Michigan, bought by Kohan in 2014, has bordered on foreclosure for several years with the mall paying its $140,000 tax bill for 2014 in 2017. Now, Kohan owes $275,000 in property taxes from 2015, which must be paid by April 3, or the county there can foreclose.
The company was delinquent in paying taxes for the Berkshire Mall, as well: $230,000 for the road district and $209,000 to the town, but did pay them, albeit after the deadline. And a court ordered the mall's owners to pay $245,000 for snowplowing it owed to a company in 2017. It also failed to pay $143,000 in janitorial service bills.
"On the taxes, we appealed the taxes, and at some malls, it was very, very difficult to pay the huge taxes that were imposed on us," he told The Daily Courier.
"So, we were behind, but we paid it at the end of the day. We were behind because of the challenges we have."
In 2011, a court ruled that Woodville Mall in Northwood, Ohio, which was bought by Kohan in 2009, was to be demolished because the mall was a public safety hazard; Kohan's company was ordered to pay the city a $2.44 million judgment.
The Lincoln Mall in Matteson, Illinois, another Kohan property, closed in 2015 and was demolished two years later after a judge ruled it was unsafe. The property is in the hands of a trustee.
At the Rotterdam Square Mall, Kohan got into a dispute with the local power company over a bill, which led to the power being temporarily shut off, twice, to the shopping center.
The Kohan-owned Jamestown Mall in Florissant, Missouri, had its utilities turned off because of unpaid natural gas bills in 2012, which, according to a local newspaper report, Kohan said were left over from the previous owner. Ultimately, the mall was shut down in 2014.
Kohan said, "Some of the (utilities) accounts didn't belong to us," but were run up by former owners.
And Story City, Iowa, saw its Kohan-owned VF Factory Outlet Mall shut down in October 2017, although it's still featured among the 23 malls displayed on the Kohan Retail Investment Group's website.
Successes in some cities
Asked for examples of malls that he's been successful in turning around, Kohan pointed to the Tulsa Promenade Mall in Oklahoma, which he bought in 2013, and the Savannah Mall in Georgia, acquired in 2016.
The Tulsa Promenade Mall was only 70 percent occupied when Kohan took it over, and by 2017, was 92 percent occupied. City leaders are pleased with the improvements made to the Promenade, which Kohan bought for $12.3 million.
The Savannah Mall has four anchor stores — Bass Pro Shops, Burlington Coat Factory, Dillard's, and Target — among its more than 100 tenants and a 10-unit food court on the upper level of the mall with restaurants such as Chick-fil-a, Subway, and Sbarro.
Savannah economic development officials did not return phone calls and emails seeking comments for this story.
Can distressed malls be saved?
Kohan Retail Investment Group's business plan — buying malls on the cheap as they die and working to resurrect them — comes with built-in risks. Kohan himself estimated he has a 60-percent success rate at turning them around.
"It is difficult, in some cases," he said, listing bringing in new tenants and more traffic as hurdles to be overcome.
Jan Rogers Kniffen, a New York City-based retail analyst, said the practice of buying and attempting to turn around distressed shopping malls is a high-risk venture.
"When I look at it, and I see these guys who are bottom-fishing," he said, "I wonder if they can ever turn them around, because the business is going online … and by 2030, 50 percent of all non-bar, non-restaurant sales will be online," up from about 15 percent today.
"If that's true, then turning these malls around, except for a handful of them that can be community centers or something, just isn't likely to happen.
"So these guys are making really big bets on big pieces of property that have all the numbers in the world going against them," Kniffen said.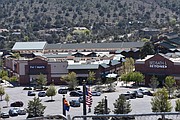 Gateway Mall
The sale of the Prescott Gateway Mall finalized this past month.
Kohan said, "Vacancies have to be filled as soon as possible," adding that he is "working on leasing that will help us to bring more tenants."
The mall was "built (only) about 15 years ago. (It has) possibilities and opportunities, and it's a tourist area," he previously told The Daily Courier. "I have a good feeling about this property. It's a new property, and I don't feel we'll have any problem if we put enough focus in it."
Gateway Mall was last in the news in July 2017, when an undisclosed buyer bid $10 million for it at auction, but that deal did not close.
The plans for a Hotshot "education center" at the mall are still on. The agreement Kohan reached to buy the property includes a provision for a museum, or "education center," to display memorabilia related to the 19 Granite Mountain Hotshots who died fighting the Yarnell Hill Fire on June 30, 2013.
More like this story
SUBMIT FEEDBACK
Click Below to:
This Week's Circulars
To view money-saving ads...