Craft the world away - Making art a means of finding inner peace

By
Nanci Hutson
|
HutsonNanci
Originally Published: March 17, 2018 6:02 a.m.
When Joan Carrell needs a bit of escape from the everyday world, she walks down the hall of her Prescott Country Club home into what has become a semi-sanctuary — her quilting studio.
"It puts me in a totally different world," said the 63-year-old master quilter who moved to Prescott in 2004 from Anchorage, Alaska, and quickly evolved from student to instructor at Quilt & Sew Connection in Prescott Valley.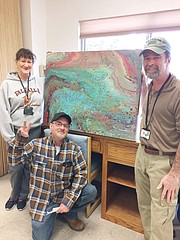 Carrell doesn't consider herself an artist, but rather a crafter.
At age 10, Carrell taught herself to knit, and over the years she also became an expert embroiderer. She also incorporates hand and machine embroidery into her quilts — and the clothes she sews for her two adult sons. Upon her retirement in 2004 from the Social Security Administration, where she had worked as a as a technical expert and trainer, Carrell felt she wanted to embark on a new phase of her "arts and crafts career."
In creating quilts, as well as with her other craft projects, including quilted handbags, Carrell finds creative solace and satisfaction, she said. She can take the tiniest pieces of fabric and turn them into a cloth mosaic. A number of her creations are on display in her house while others are presented as gifts to family and friends or donated for various charity causes. Carrell is active with the Mountaintop Quilt Guild.
"The design and construction take me out of the present," Carrell said. "It's an all-consuming thing."
And she's never focused on just one project.
"I'm always thinking about the next project because it makes me so happy," Carrell said.
Her husband, Jerry, will often ask her about who will be the recipient of the next quilt she is making or why she is making a particular quilt. Her answer: "There doesn't have to be a purpose. It's just the process of making it."
As a craft teacher, Carrell, infuses that attitude into her students. She delights in seeing her students evolve from novice stitchers to admired artists, with their creations showcased at quilt shows.
Some of her students take up quilting as therapy, be it to adjust to retirement or to recuperate from illness.
"It gives them purpose and makes them feel better," Carrell said.
In the past year and a half, she said she has sometimes become so stressed over national and world events and politics, she turns off the news and turns on her sewing machine and an old movie.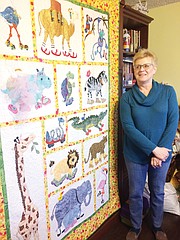 "I am happily locked behind my door, back here where the outside world can't penetrate; it's not able to make me stressed out or sad," Carrell said. "There are so many things in the world I can't control, but I can control this."
CRAFTING FOR THERAPY
U.S. Army veteran Roy Taliaferro, 46, finds making pottery or a pencil sketch or painting a scene on canvas to be one of the best ways to relax his mind because he "can get lost in it."
"I get a picture in my head, and I just let the world slip past," Taliaferro said.
As a client in the Northern Arizona Veteran Affairs Health Care System's domiciliary, Taliaferro said making art of any kind has proven to be a part of his recovery process.
"It's great therapy," Taliaferro said.
A group of seven domiciliary patients recently collaborated on a piece of abstract art — referred to as a "dirty pour" — that won first place in the annual Creative Arts Festival. The honor earns them a trip to the national festival, to be held in Des Moines, Iowa, in the fall.
Their earth-tone-shaded canvas is titled, "Veteran's Peaceful Salute."
Proud of their piece, the group that dubbed themselves "The Dirty Seven" admitted the first time they tried the process, the outcome was a dark, ugly mess because they were not united in their efforts. On the second try, though, the veterans left behind their egos and allowed their artistic spirits to spill forth. The result was a canvas adorned with flowing streams of color that project an image of serenity and calm.
For Darryl Norberto, 47, a U.S. Army veteran of Desert Storm, the "dirty pour" was a rewarding artistic experiment that enabled him to build rapport with fellow veterans who have endured some of the same anxieties and stress he has wrestled with over the years.
"We lift each other up," Norberto said.
Fellow artist Ron Alexander, 59, who served in the U.S. Marines in the late 1970s, said the final product "just grabbed us."
"When we were done, we were captivated," Alexander said. "It just feels so wonderful to create something out of nothing, to know you've left something beautiful behind."
Another Marine and festival artist, Anthony Tusa, said any creative craft enriches one's soul.
"It just gives me inner peace," he concluded.
More like this story
SUBMIT FEEDBACK
Click Below to: