Governor OK with some gun control
Rep. Campbell: Dems playing political 'theater'

Originally Published: March 16, 2018 6:05 a.m.
PHOENIX — Gov. Doug Ducey said Thursday he will back laws designed to take guns from people who are a threat — precisely what is in a bill that Tucson Democratic Rep. Randy Friese could not get heard in the Republican-controlled Legislature.
In a Twitter post, the governor specifically mentioned Nikolas Cruz, the teen who killed 17 people at a high school in Florida a month ago.
"In the overwhelming majority of the deadliest mass shootings in the last 20 years, the shooter exhibited obvious signs of being a threat,'' Ducey wrote. "Why not have laws and a process to restrict these individuals from possessing or obtaining guns?''
The governor, in a series of posts, said he has been meeting with various groups on the issue of school safety. Among the things Ducey said he likes are increased mental and behavioral health resources at schools and cracking down on people who are not entitled to have weapons.
Ducey also said he supports "enhanced background checks.''
But the governor has been openly cool to legislation to actually closing the "gun show loophole'' that entitles people to sell weapons at such events without having to determine if the buyer is legally entitled to own a firearm, checks required when the weapon is sold by a federally licensed gun dealer. He even signed legislation last year to prohibit any mandatory background checks on person-to-person sales.
But Ducey also said he believes in "respecting Second Amendment rights of law-abiding Americans'' while enforcing gun laws already on the books.
It could be the proposal that appears to be modeled after Friese's HB 2140, however, that could be the biggest change in philosophy for Ducey who in more than three years in office has signed various laws designed to protect the rights of gun owners.
Friese's bill would allow an immediate family member or police officer to seek a court order prohibiting someone from possessing a firearm.
Factors a judge would consider is whether the person suffers from mental illness or disorder, has threatened himself or someone else, was arrested on a charge of domestic violence, and recklessly used, displayed or brandished a firearm. HB 2140 would also require evidence of whether the person acquired a firearm or other deadly weapon within the prior six months.
An injunction could last as long as one year.
Campbell: 'Charade'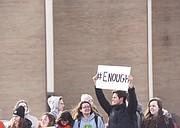 The inability of Friese to even get a hearing for the measure came up on the House floor Thursday as a Prescott Republican lawmaker lashed out at Democrats, accusing them of being more interested in political "theater and charade'' than solving the question of gun violence in schools.
Rep. Noel Campbell said all lawmakers are upset about the shootings in Florida. And he acknowledged the anger and frustration of students who walked out of their classrooms a day earlier on the one-month anniversary of that event.
"But I have a feeling some of you down here just want to be seen and not do anything,'' Campbell charged in a floor speech, citing not only the presence of students in the gallery on Wednesday but also Democrats taking close to an hour to introduce the students by name and call attention to them and their demands for changes in state gun laws.
That, Campbell said, is not the way "to get things done.''
"It hardens positions,'' he said, with the "theater'' of Wednesday resulting in many Republicans choosing to leave the floor rather than sit through the introduction of individual students and the Democrat floor speeches.
"You drove us out of here,'' Campbell said, saying Democrats are not interested in working with Republicans.
"You want to make an example of us, you want to embarrass us,'' he said. "Well, see how effective that is.''
Campbell said if Democrats are interested in legislative solutions they should forgo these kind of public spectacles and instead work with Republicans behind closed doors.
But Rep. Sally Ann Gonzales, D-Tucson, said that call rings hollow. "We are not given the opportunity,'' she responded.
Gonzales pointed out that Friese introduced several measures this year he says would address the issue of gun violence. These included not only the mental health injunction but also closing the "gun show loophole'' that allows weapons to be transferred without checking whether the buyer is legally allowed to own a weapon.
None of them got even a committee hearing.
She also pointed out that when Friese used a procedural maneuver to bring the measure on background checks directly to the floor so it could be voted it was defeated in the Republican-controlled House on a party-line vote.
And that, Gonzales said, leaves Democrats with the one tool they have: floor speeches.
"We do not grandstand just to grandstand,'' she said. "We are here to make a difference, just like you are, Rep. Campbell.''
Rep. Charlene Fernandez, D-Yuma, echoed the sentiment.
"We are not afforded the same opportunities as you are,'' she said. And Fernandez said there's a good reason there were students at the Capitol on Wednesday.
"When they come and sit in the gallery they expect us to express their views,'' she said, reminding lawmakers that each of them got elected because of the constituents. "Those kids wanted their voices to be heard.''
But Rep. Anthony Kern, R-Glendale, had a different take on what happened Wednesday.
"In my view, I think a lot of those students were played,'' he said.
Kern said he is sure the students who showed up were real in their emotions.
"I'm sure they want to go to safe schools,'' he said. But Kern questioned the commitment of Democrats to that issue.
He said during the time Barack Obama was president there were 14 mass shootings. At the same time, Kern said, the Democrats had control of both the U.S. House and Senate.
"If they were so concerned about guns at that time they could have pushed through gun legislation the same way that they pushed through Obamacare,'' he said.
More like this story
SUBMIT FEEDBACK
Click Below to: