Designer Jamie Durie to partner with Pottery Barn
Originally Published: March 16, 2018 5:58 a.m.
SAN FRANCISCO — Pottery Barn, a member of the Williams-Sonoma, Inc. (NYSE: WSM) portfolio of brands has announced its exclusive collaboration with Australian-born award-winning designer, horticulturist, internationally recognized television host and best-selling author, Jamie Durie.
Durie has long been passionate about creating outdoor rooms – luxurious living spaces designed for people to cook, eat, bathe and sleep outdoors – and is equally driven to create interiors that bring the outdoors inside.
Over the last decade, his work has evolved from landscape design into a successful furniture and interior- design practice. At the heart of his design philosophy is the belief that the closer we live to nature, the happier we feel.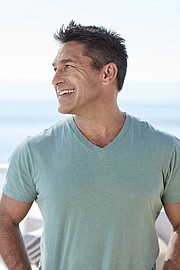 Durie's 'Transterior' spaces merge the interior and exterior of a home by integrating elements of nature with vegetations, colors, textures, architecture and beautifully designed furniture made from high-quality materials.
"My dream was to design the first true inside-out furniture collection on the market for Pottery Barn," Jamie Durie said. "We started with versatile and superior materials, blending beautiful fabric and richly stained mahogany, to create a collection that offers homeowners limitless freedom to use their furniture for both indoor and outdoor entertaining occasions. I think we have achieved that dream and I can't wait to share it."
Durie's collection for Pottery Barn seamlessly combines characteristics of the classic American craftsman era and with modern-day resort design. His luxurious collection of oversized lounge and dining settings are designed with both indoor and outdoor use in mind and feature a new blend of Sunbrella® performance fabric developed by Durie for the collection.
"Jamie brings global inspiration and an impressive breadth of experience in landscaping and lifestyle craftsmanship to the design process," said Monica Bhargava, EVP of Product Development, Pottery Barn. "The partnership has resulted in casual, comfortable pieces with strong lines and natural textiles that can be used anywhere in the home, inside or out."
The collection debuts versatile pieces for everyday relaxation, entertaining and gardening with prices ranging between $39.50 and $2,000. Key products include:
Slat Back Dining Armchair & Dining Table featuring sleek wood construction and open weave panels, starting at $399Sofa & Coffee Table Ottoman to help customers create comfortable and communal 'transterior' spaces, starting at $399 Hanging Metal Sphere & Vertical Gardening Stand provide gardening solutions with an elevated aesthetic, starting at $99To learn more about the line, visit www.potterybarn.com and join the conversation on social media with @potterybarn #JDxPB.
This Spring, Durie celebrates 20 years in his design practice.
Within that span he has received 36 International Design Awards including the prestigious Gold Medal at the Chelsea Flower Show London; an honour acknowledged by Her Majesty Queen Elizabeth II. Durie designed his first collection of furniture 16 years ago and recently received the New York Design Award and London Design Award, both for his Italian furniture design collections. He has worked on hotels in over 17 countries and is best known for pioneering 'The Outdoor Room', a concept mirroring the title of his hit show on HGTV for five seasons.
Durie's début in America started on The Oprah Winfrey Show in 2006 and since then he has hosted 52 design shows worldwide and authored 12 best-selling design titles. Visit www.jamiedurie.com for more information.
Pottery Barn is a premier specialty retailer for casual, comfortable and stylish home furnishings. Key product categories include furniture, bedding, bath, rugs, window treatments, tabletop, lighting and decorative accessories.
Nearly all Pottery Barn products are designed in house and are exclusive to its catalogs, stores and website. Pottery Barn currently has retail stores in the United States, Canada and Australia and unaffiliated franchisees that operate stores in Mexico, the Middle East, South Korea and the Philippines, as well as an ecommerce site at www.potterybarn.com. Pottery Barn provides complimentary design services and a comprehensive gift registry program for weddings and other special events. Pottery Barn now offers products for all life stages and every room in the home through Pottery Barn, Pottery Barn Bed and Bath, Pottery Barn Kids, and PBteen. The company is headquartered in San Francisco, California.
— Information provided by Business Wire
SUBMIT FEEDBACK
Click Below to:
More like this story