Flagstaff prostitution sting nabs 8, one from Prescott Valley
Originally Published: March 15, 2018 6 a.m.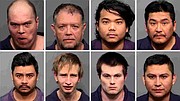 A multi-agency prostitution sting in Flagstaff on Friday, March 9, resulted in the arrests of eight men, one of whom is from Prescott Valley, according to a news release.
Christopher Ruben Marchant, 27, of Prescott Valley, was charged with child prostitution.
The Flagstaff Police Department, along with investigators from the Federal Bureau of Investigations, and Prescott Valley Police Department, made eight arrests during the one-day undercover investigation.
The investigation focused on people paying to have sex with minors, under the age of 16. All of the arrestees involved made arrangements for specific sex acts that would be conducted with the minors in the sting.
Police noted that they took over 100 calls from would-be suspects, most of whom declined when they learned the age of the girls involved. No actual children were a part o the sting.
The other seven suspects are all men from Flagstaff.
More like this story
SUBMIT FEEDBACK
Click Below to: