Roping for the good of Prescott Valley residents
First 2 days on the job, he rescues five animals
Prescott Valley Police Department lucked out when it hired Tim Yogerst as its newest animal control officer — Yogerst has ranching experience and got an opportunity to use his skills March 4 and 5 when he rescued an injured runaway horse and four escaped bulls.
The horse broke through a barbwire fence in the Mingus West subdivision and was heading toward Highway 89A when Yogerst came upon it. The horse had a number of cuts to its chest and legs.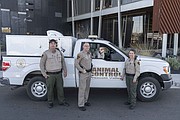 "I was driving up and looked at the dog leash we keep in the truck, and thought, 'This isn't going to be long enough,'" the officer said this week. He grabbed three leashes, which have open loops, and connected them together to create a makeshift lasso.
"I did it real quick, and was able to leave the car and catch it in time," Yogerst said. "I've done a little bit (lassoing) as a teenager. I'm 40 years old now; it was a long time ago."
Maybe lassoing skills, like riding a bicycle, remain engrained, because he successfully captured the horse. It dragged him a ways until Yogerst was able to pull its head down and stopped it before entering onto the highway. After it calmed down, he led the horse back through the break in the fence, and fixed the breach. The department has contacted the owner and also forwarded information to the Equine Unit of the Arizona Department of Agriculture, said PVPD Sgt. Jason Kaufman in a news release dated March 6.
PVPD hired Yogerst about three months ago, said his supervisor, James Risinger, and was on his first day of patrol when the runaway horse incident occurred.
On Yogerst's second day, he answered a call about four bulls that escaped from their enclosure in the Pronghorn Ranch subdivision. It wasn't apparent where the escape took place, so Yogerst used a tool to open up a portion of the fence and corral all four bulls back into the fenced area. Fain Ranch workers said they would check the fence line to determine where the breach occurred.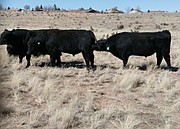 Yogerst moved to Dewey as a 5-year-old and attended Bradshaw Mountain High School. He had several jobs working on ranches when young, including at Young's Farm and in Skull Valley.
"I always wanted a job with animals; I always had a job with people," he said. He worked mostly in retail and the restaurant business. His wife got a job with PVPD, and Yogerst said he really enjoyed the people.
"Everybody here — well, I guess they are what you see, really good people. They always back you up. So when a job opened up, I just wanted to give it a shot," he said, praising highly his supervisor and co-worker, Officer Evelyn Whittaker. "I will probably retire at this job. I found something I'm pretty good at and I love doing it."
Risinger said cattle break out of their enclosures occasionally. Unless near a high volume of traffic, officers usually "babysit" them until ranchers arrive to escort them back into the fenced property. Most of the calls, however, are about unlicensed dogs running loose.
"I would love to see people license dogs more," Yogerst said.
More like this story
SUBMIT FEEDBACK
Click Below to:
This Week's Circulars
To view money-saving ads...