K-9 cop sniffs out million-dollar drug bust
Originally Published: March 14, 2018 6:05 a.m.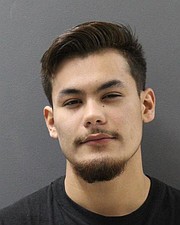 A man was arrested on Interstate 40 near Ash Fork on Monday, March 12, after a Yavapai County Sheriff's deputy stopped him for an equipment violation and found nearly 75 pounds of illegal drugs in his car, worth about a million dollars on the street, according to YCSO spokesman Dwight D'Evelyn.
About 7 a.m., a deputy pulled over 20-year-old Eduardo Pedro Martinez, from Texas, and Martinez initially refused to comply with the deputy's order to get out of the car, D'Evelyn said.
An external sniff of the car by a K-9 resulted in an alert that allowed deputies to search it and they located approximately 47.5 pounds of cocaine and 27.5 pounds of marijuana.
Martinez was charged with transportation of narcotic drugs for sale, possession of narcotic drugs for sale, possession or use of narcotic drugs, transportation of marijuana for sale, possession of marijuana for sale, possession or use of marijuana, possession of drug paraphernalia, forgery — for possession of a fake social security card – and failure to comply with a police officer.
He was booked into the Camp Verde jail and remains in custody on a $750,000 bond.
More like this story
SUBMIT FEEDBACK
Click Below to: