Bonnies stun UCLA 65-58 for 1st NCAA Tourney win in 48 years
Sports in Brief
Originally Published: March 13, 2018 11:42 p.m.
DAYTON, Ohio — The basketball was still high in the air — flung to start the celebration — when the buzzer sounded and the Bonnies' long-awaited March celebration commenced. Players chest-bumped on court. Coach Mark Schmidt jumped and waved his arms.
The crowd at the University of Dayton Arena — a place where St. Bonaventure is usually booed — got caught up in the moment, too. And why not? It had been 48 years since anyone saw something like this out of St. Bonaventure.
Courtney Stockard returned from a hamstring injury and scored 26 points, and Jaylen Adams hit a jumper and three free throws in the final minute Tuesday night, rallying the Bonnies to a 65-58 victory over UCLA and their first NCAA Tournament victory since 1970.
At long last, it was time to party in March .
"It can't get better," Schmidt said.
They'll have more chances. The 11th-seeded Bonnies (26-7) will play sixth-seeded Florida (20-12) in Dallas on Thursday night in the East region. They did interviews, showered and headed for a flight to their next destination.
"Florida's got four or five days on us, so we'll be watching tape on the plane," Schmidt said. "We've got a 2 a.m. flight, but it couldn't be a better flight. Ever."
St. Bonaventure set a school record with its 26th win. Stockard got the Bonnies in position for the drought-busting tournament victory by leading a late 12-0 run. Adams — who missed 14 of his first 15 shots — closed it out in the final 49 seconds.
Radford downs LIU Brooklyn for its first NCAA tourney win
DAYTON, Ohio — Carlik Jones had a substantial and loud cheering section at University of Dayton Arena, a lot of folks traveling about an hour up Interstate 75 from his Cincinnati hometown to see him play for Radford in a First Four game.
Jones didn't disappoint them. The redshirt freshman guard was the engine that drove the Highlanders, scoring 12 points to go with career highs in rebounds with 11 and assists with seven as Radford beat LIU Brooklyn 71-61 on Tuesday night to get its first-ever NCAA Tournament win.
Radford didn't play its prettiest game, but the team from rural southwest Virginia will celebrate briefly before heading to Pittsburgh to play No. 1 seed Villanova on Thursday. The Big South champion Highlanders are making their third tournament appearance and first since 2009.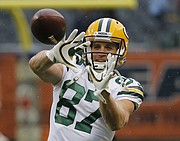 Packers release WR Jordy Nelson after 10 seasons
GREEN BAY, Wis. — Aaron Rodgers is losing his most prolific receiver but might be getting an upgrade at tight end.
The Green Bay Packers released veteran Jordy Nelson, the third-leading receiver in franchise history and one of Rodgers' top targets.
The Packers announced the move Tuesday, a day before teams can begin to sign free agents.
Nelson had 550 receptions and 69 touchdown catches in 10 seasons in Green Bay. But his production declined last season with Rodgers sidelined much of the year by a collarbone injury.
First-year general manager Brian Gutekunst called Nelson "one of the great Packers who played here. He's everything you want a pro to be — and he'll be missed.
"I think Jordy is a really good player, and you certainly don't want to let him walk out the door. But this is a big puzzle, and there's kind of limitations. You can't keep everybody. As we went through this, we thought this was in our best interest. The best interest for our team moving forward."
Asked if the Packers offered Nelson the opportunity to come back in 2018 at a reduced salary, Gutekunst said, "There were a lot of discussions that went on. In fairness to him, we won't get into those kind of discussions."
Nelson, who turns 33 in May, was scheduled to earn $10.25 million this season and carry a salary-cap number of $12.52 million.
In a post on his Instagram account, Rodgers wrote that it was "hard to find the right words today to express what '87' means to me. No teammate exemplified what it means to be a Packer quite like him. From living in (Green Bay) full time, his incredible contributions to the city, state, and region, to his consistent, reliable play on the field. Definitely a sad day and the toughest part of this business."
Cardinals release running back Adrian Peterson
TEMPE — The Arizona Cardinals have released running back Adrian Peterson after a half-season in the desert that included a pair of impressive games and a season-ending injury.
The seven-time All-Pro running back began last season with New Orleans but, after barely playing there, was dealt to the Cardinals.
Peterson rushed for 134 yards in a win over Tampa Bay and 159 in a win over San Francisco. In six games, he gained 448 yards on 129 carries for Arizona before being sidelined with a neck injury. Peterson's release was not unexpected, with David Johnson returning from injury and expected to fill the primary running back spot.
Peterson, who turns 33 next week, ranks 12th in the NFL in career rushing with 12,276 yards.
Woods, Els named captains of Presidents Cup in Australia
ORLANDO, Fla. — Ernie Els was always the logical choice to be the International team's next captain in the Presidents Cup.
Tiger Woods at first thought it might be soon for him.
That changed a couple of months ago when Woods asked PGA Tour Commissioner Jay Monahan about the U.S. captain for next year's matches in Australia, and the usual suspects were mentioned. Monahan asked if anyone had been left out, and Woods added another name to the short list.
"Me."
Woods and Els, who both played eight times in the Presidents Cup and were involved in a high-stakes playoff that ended in a tie, were introduced as captains on Tuesday. The 2019 matches will be Dec. 12-15 at Royal Melbourne, the latest the event has been held.
Woods was an assistant captain when the American won for the seventh straight time, 19-11, last year at Liberty National. In early discussions about the next one, Woods said he was more comfortable serving as an assistant.
Jets bringing back QB Josh McCown on 1-year deal
NEW YORK — The New York Jets are calling an audible and turning to a familiar face as their backup plan at quarterback.
Josh McCown agreed Tuesday on a one-year deal to return to the Jets, agent Mike McCartney announced on Twitter.
The Jets were believed to be one of the primary potential suitors for free-agent prize Kirk Cousins, but the former Washington quarterback is visiting Minnesota on Wednesday.
With the possibility looming that Cousins could sign with the Vikings before ever meeting with the Jets, New York instead is bringing back its 38-year-old starter who had a career season last year. McCown set individual highs with 2,926 yards passing and 18 touchdowns, and quickly established himself as a respected leader in the locker room.
A person with direct knowledge of McCown's contract told The Associated Press the one-year deal, which will be signed when the NFL's free-agent period begins Wednesday, is worth $10 million. The person spoke on condition of anonymity because the team had not announced it.
More like this story
SUBMIT FEEDBACK
Click Below to: