1,000-plus firefighters attending Prescott Wildfire Academy
Class numbers skyrocket past previous attendance record for Prescott academy

By
Max Efrein
|
mefrein
Originally Published: March 12, 2018 6:06 a.m.
Even for the annual Arizona Wildfire and Incident Management Academy, the number of firefighters in the Prescott area this week is well above average.
The academy's 2018 session began Saturday, March 10, and will continue through Friday, March 16. It takes place every year on the Embry-Riddle Aeronautical University campus in Prescott and provides everything from beginner's wildfire training to the most advanced.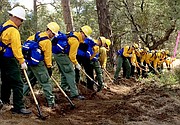 In its 16 years of operation, the highest enrollment of students was 730, until this year's number was finalized, said Tony Sciacca, Executive Director of the academy. Attending the 51 classes being offered are 1020 students (just 40 people from the academy's capacity of 1060).
"It's a significant jump," Sciacca said.
Why that is isn't entirely clear, but Todd Able, the academy's Incident Commander, has some "gut feelings" about it.
"I truly think we had a busy fire season last year, which piqued people's interest," Able said.
Last year's fire season included the infamous Goodwin Fire, as well as several other major fires in Arizona and several devastating fires in California and the Pacific Northwest; all of which received heavy coverage from media agencies throughout the country.
An additional factor that Able believes contributed to the spike in enrollment is a general increase in government funding for fire prevention and fighting throughout the state and beyond.
"I think budgets for local fire departments and fire departments in the state, for sure, are starting to get a little bit better," Able said. "Things are kind of coming back around and giving some of those smaller departments, and even some of those larger departments, monies that they can spend on training."
Supporting that assessment is Governor Doug Ducey's recent announcement that he is doubling his request of state budget appropriations from $1 million to $2 million for fire prevention funding.
Finally, the amount of scholarship monies made available through donations to the academy were significant this year.
"This year we're giving out $39,000 in scholarships to rural fire departments, volunteer fire departments, municipalities, so-on and so-forth, that couldn't necessarily afford to come to the academy," Sciacca said.
That equates to about 200 students having a full ride for their training.
About 80 percent of the academy's students are from Arizona, Sciacca said. The remaining students this year have come from 23 states, Canada and Australia.
While a portion of those attending are from agencies one would expect, such as the Forest Service and Bureau of Land Management, a lot are hometown firefighters from smaller agencies.
"These guys are coming from departments like CAFMA (Central Arizona Fire and Medical Authority) and Prescott Fire Department and Groom Creek and Mayor who have to be cross trained," Able said. "They have to know both structural firefighting and all that it entails, along with being able to fight wildland fires because of where we live."
Follow Max Efrein on Twitter @mefrein, email him at mefrein@prescottaz.com or call him at 928-445-3333 ext. 1105.
SUBMIT FEEDBACK
Click Below to:
More like this story