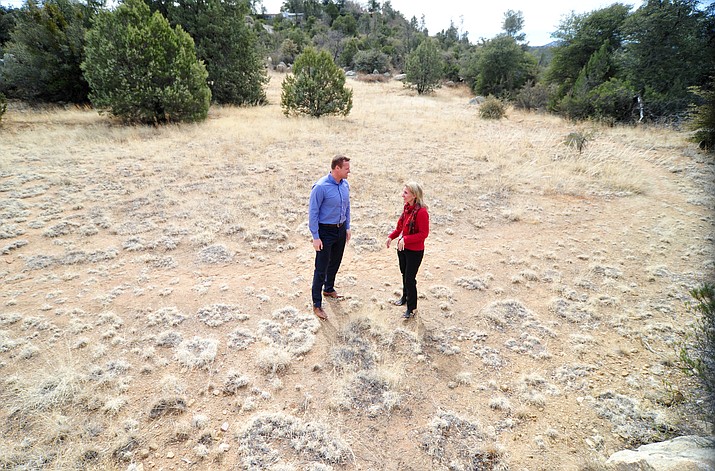 Originally Published: March 9, 2018 6:02 a.m.
To attract the best of the best in the teaching profession, Prescott Unified School District is open to a plan endorsed by some other school districts across the state and region: small, district-owned houses.
"I love the idea," declared Superintendent Joe Howard, who presented the idea at the Governing Board retreat on March 2.
Yavapai County and PUSD education leaders say offering such an incentive to those passionate about a career in education but who cannot accept jobs here because they can't afford to cover living expenses deserves careful consideration.
In southern Arizona, the Vail school district is slated to build four "tiny homes" on land the district owns next year, with plans to expand to 24 units. This is a district where housing is expensive and there are no apartment complexes. The homes they will offer are touted as "tiny, but luxurious" and suitable or single adults.
Closer to Prescott, Mayer Unified School District Superintendent Dean Slaga is looking at 80 acres near the community's high school in Spring Valley as a potential spot for such starter homes, which could range from 500 square feet to 800 square feet.
Slaga has already been in touch with county officials about some of the permitting requirements — zoning is not an issue for school districts — and expects his Governing Board to be in favor.
"I'm the most shovel ready of anybody (in the region) because of the nature of the land I have and the proximity to the high school," Slaga said, noting the land also has access to all necessary utilities.
Beyond the practicalities that still need to be determined, Slaga agrees with his fellow area educators that this is a piece of the puzzle to attracting and keeping the best and brightest in the profession.
Granite Mountain School Principal Teresa Bruso is a champion of the cause — she is eying vacant land south of Granite Mountain School and Abia Judd Elementary as an ideal spot for a teacher-centric neighborhood.
More often than not, Bruso said when she interviews teacher candidates they ask for help finding housing they can afford. Some of her staff live with roommates, or opt for in-law style apartments.
Most one-bedroom apartments now available in the region cost at least $750 a month and can go up to as much as $1,200 with extra bedrooms upping the price.
On Wednesday morning, Yavapai County Education Service Agency Executive Director Stan Goligoski and Bruso toured a portion of the 36-acre parcel next to the school complexes that stretches from just beyond the Granite Mountain garden to pieces tucked along a trail that winds down to Iron Springs Road. The main section — Bruso and Goligoski guessed there are five or six buildable acres — is something of an open amphitheater setting surrounded by a wall of boulders and large shade trees.
The unique topography of the land offers a serenity and seclusion likely to appeal to someone looking for a place to live that is off the beaten track yet still only a few minutes away from shopping, restaurants, hiking trails and nightlife.
"This is very nice land," Goligoski said.
The rental models Goligoski suggests make the most sense are would be a maximum of 800 square feet with two bedrooms, a bathroom, living room, laundry room, possibly a front porch and carport.
Goligoski has invested considerable time talking to city and county officials, community leaders, contractors and potential donors about the feasibility of forging partnerships able to make this a reality in the very near future.
He just was in conversation with some area contractors and Yavapai College administrators about the possibility of students considering the trades building some of these homes. The students would gain work experience, and the district would get housing at nominal, if any, cost. Goligoski, too, is talking with potential donors about in-kind services for everything from a road to assisting with assuring the essential utilities are available for the property.
He is enthusiastic about the possibilities, and the momentum that is building for what would be a neighborhood of up-and-coming educators, and possibly in the future other city employees.
"If we're aggressive, we might even be able to get a home in here by fall," Goligoski said.
Howard sees this as an "obvious thing" to try.
A next step for the district will be a survey to find out how much interest there is within current staff as well as with recruits, Howard said. The school board will have to give its go-ahead and the funding piece would have to be arranged so it is cost-neutral for the district at affordable rents.
Once all the "kinks" are worked out, and that could take into the next school year, Howard said he sees this as a true win for the district.
"This is one of my favorite projects right now," he said.
More like this story