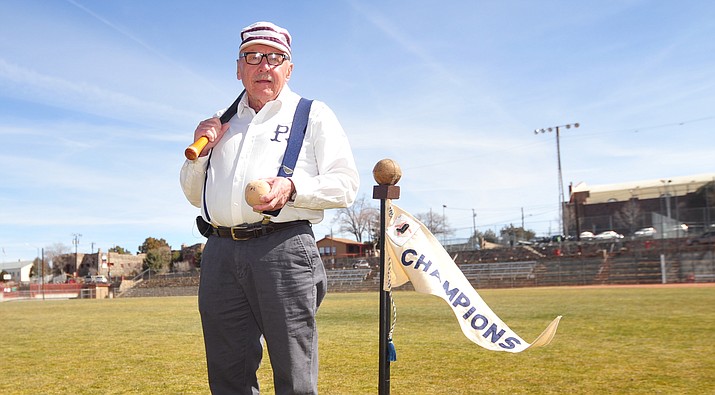 Photo by Les Stukenberg.

Originally Published: March 8, 2018 11:23 p.m.
Updated as of Saturday, March 10, 2018 6:05 AM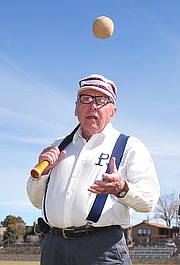 Mike 'Ace' Adrian encourages community to experience what the game once was
From the first weekend in November and typically through the end of March, during baseball's offseason, there's a group of men and boys in Arizona who play Vintage Base Ball (that's right, two words), largely to honor the roots of America's Game.
At 11 a.m. Saturday at Ken Lindley Field in Prescott, the Prescott Champions Vintage Base Ball team and its primary founder, Mike "Ace" Adrian, will give you a taste of what the "old ballgame," if you will, looked like in the mid-1800s before modern baseball began.
Adrian, who plays for the Champions, encourages folks of all ages and backgrounds to stop by Lindley Field and watch and, if interested, perhaps try their hand at playing the Vintage game someday.
"We still want to get some more younger guys out [to play], but any age group is fine," Adrian said. "We have guys anywhere from ages 12 to 71 right now."
After Saturday, Adrian's Champions team will travel to Phoenix March 24 and 25 for Arizona Vintage Base Ball's regular-season championship tournament, which will feature eight squads. The Champions will end the season with a tournament April 7 and 8 at historic Warren Park in Bisbee. The Friends of Warren Park sponsor the tourney, which is a fundraiser.
The 71-year-old Adrian, a die-hard baseball fan who lives near Dewey, used to play for a Vintage squad in his native Illinois. After relocating here, he discovered that Prescott once had its own real Vintage team, the Champions, who played at different venues, including downtown Prescott in the 1860s.
Vintage Base Ball was played by military men and miners during Arizona's days as a U.S. Territory, from 1863-1912. Soldiers suited up while stationed at Fort Whipple in Prescott and Fort Verde in Camp Verde, among other spots.
"A big part of why we do this is because of the Prescott Champions, who played for the championship of the Arizona Territory at the Courthouse Plaza [in 1876]," said Adrian, adding that the Vintage game had disappeared from Prescott by 1881. "It was the Champions versus the Fort Whipple 'Whipples' for the title."
Adrian added that The Palace restaurant on Whiskey Row in downtown Prescott has a photo of the men who played in that game hanging on one of its walls. Fort Whipple rocked the Champions, 47-21, in the territory's championship game during the afternoon of May 21, 1876, on the plaza.
VINTAGE GAME'S APPEAL
These days, it's not uncommon for retired modern-day players to check out Vintage Base Ball games. Former Dodger Manny Wills, 85, visited Fort Verde earlier this season, where an awestruck Adrian met him.
The current Champions carry 12 or 13 players on their roster, and Arizona's Vintage teams keep records and standings during the regular season.
There are several differences between modern baseball and the Vintage game. For one, in Vintage, pitchers pitched underhanded rather than overhand, lobbing the ball to home plate. Bats had smaller barrels and fielders didn't use gloves. Balls were bigger and softer. Outs could be recorded on a batted ball caught on one bounce (the one-bound rule, 1840s-1860s). Even the fair- and foul-ball rules were looser.
In the field, defenses played in pretty much any formation they wanted. Baserunners could slide, although Adrian said, "We don't do that" because "we don't want people getting hurt."
Then there's Vintage's uniforms, which were often plain. Adrian's Champions, for example, wear white dress shirts, gray slacks and blue suspenders with simple caps. They don black tennis shoes with inked-out logos. Sunglasses are permitted, but "no wild colors," Adrian said.
"Every single person is getting what this is all about," Adrian added about the current Vintage players. "It's more than competing. It's the nostalgia. Three of us have our sons playing on the team with us.
"There's a rich history of baseball in Arizona, including Prescott. We want people to see it and enjoy it. They might get a kick out of the game."
Doug Cook is a sports reporter for The Daily Courier. Follow him on Twitter at @dougout_dc. Email him at dcook@prescottaz.com or call 928-445-3333, ext. 2039.