Prescott Valley PD's new Animal Control Officer off to 'a great start,' police report
Lassos an injured horse; corrals four escaped bulls

By
Max Efrein
|
mefrein
Originally Published: March 8, 2018 6 a.m.
Tim Yogerst has already managed some difficult situations as Prescott Valley Police Department's new Animal Control Officer.
Yogerst was hired by PVPD about three months ago to replace their former animal control officer, Anthony Dickinson. Dickinson, 57, was fired after being arrested in July for luring a minor for sex. He was sentenced in late January to lifetime supervised probation and six months flat time in jail.
Horse gone wild
Sunday, March 4, was Yogerst's first day on duty by himself — and it wasn't an easy one — said PVPD spokesperson Jason Kaufman.
Yogerst responded to a call of a loose horse in the Mingus West subdivision, Kaufman said. The horse had broken through a barbwire fence located on the east side of the community and had suffered a number of cuts to its chest and legs as a result of its own actions.
Once he located the horse heading southbound toward Highway 89A, Yogerst quickly tied three dog leashes together to serve as a makeshift lasso, Kaufman said. He then managed to get the lasso around the horse's neck as it trotted by him. The horse pulled and dragged Yogerst until he was able to get alongside it and force its head down, causing it to stop right before entering onto Highway 89A.
After calming the horse down, he led it back to where it had broken out and repaired the damaged fence, Kaufman said. The owner of the horse has been notified of the incident and the information has also been forwarded to the Arizona Department of Agriculture's Equine Unit.
Bulls on the run
On Monday, March 5, Yogerst responded to an animal problem in the Pronghorn Ranch subdivision, according to the news release. Four of Fain Ranch's bulls had broken out of the fence and were on Pronghorn Ranch Parkway, police said. It was unclear where the bulls had broken out from, so Yogerst opened up a portion of the fence with a Leatherman tool and corralled all four bulls back into the fenced area.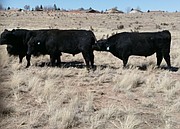 He later spoke with the ranchers from Fain Ranch and they said they would check the fence line to find where the bulls escaped, the news release states. He then notified the Pronghorn community center that the bulls were confined.
More like this story
SUBMIT FEEDBACK
Click Below to:
This Week's Circulars
To view money-saving ads...