The more urgent remediation from the effects of historical mining in Humboldt was the cleanup of residential yards that contained high levels of arsenic and lead. The Environmental Protection Agency has completed that process and now is looking at options to take care of the rest of the Superfund site located on both sides of Highway 69 at the Iron King Mine and the Humboldt Smelter.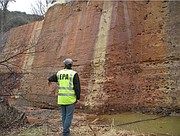 EPA Project Manager Jeff Dhont spoke to the Dewey-Humboldt Town Council and residents on Feb. 20, giving an update on the progress so far.
He also is asking residents for their ideas and what is important to them. He said EPA was hoping to complete the Feasibility Study by June, but funding and contractor issues mean the draft won't be out until fall.
SUPERFUND PROCESS
During the Iron King Mine and Humboldt Smelter's operation from 1906 to 1970, production of zinc, copper, lead, gold and silver resulted in toxic waste products of lead and arsenic. Once declared a Superfund site, EPA first investigates the site and assesses what risks it poses. This can take a long time depending on how complex or large the site is, Dhont said.
The second phase is to assemble a range of cleanup options, make a record of decision, then design and conduct the cleanup. The public is involved throughout the process.
After the initial investigation, EPA elected to move to a more urgent need. Workers inspected more than 600 properties for high levels of arsenic and lead during three separate cleanup projects. About 50 residential properties had soil removed and replaced from yards.
TWO SITES – IK MINE
Now that the remedial investigation and residential action is complete, Dhont said looking at options for the rest of the site is next. These include the orange mine tailings at the Iron King Mine visible from Highway 69, and other wastes such as the slag piles at the Humboldt smelter.
The tailings pile, at 125 feet above the highway, covers 50 acres. The steep slopes are topped by a water pond covered by a crust from a chemical reaction due to repeated wetting and drying. This is nice, Dhont said, because it helps keep down dust.
The University of Arizona conducted studies with vegetation coverage, but the soil is so toxic, very few things will grow on it. Where EPA placed the lesser contaminated soil from residents' yards, however, a nice green coverage appeared. One plan is to cover the tailings pile with a few feet of soil, maybe add an engineered cover underneath, and vegetate it.
"It's a materials management thing," Dhont said. Rainwater scours through Chaparral Gulch carrying materials and waste down to the Agua Fria River, which can produce some risk to human health and the environment.
Areas of concern include the upper and middle Chaparral Gulch, and green habitat with some contaminated soil in a flood plain, which is held back by 25-foot high dam.
HUMBOLDT SMELTER
"The smelter stack is pretty much ready to fall. It's amazing it's still standing," Dhont said.
EPA conducted borings, some were 125 feet straight into the pile, some were shorter, and some are monitoring wells. What they found was the main flow of the Upper Chaparral Gulch didn't contaminate the area too badly. It is fairly shallow and those areas can be removed.
The Middle Chaparral Gulch has a lot of nice trees, and it would be nice to preserve all this, Dhont said. Some sediments exist there which are not a threat to people, but may be a threat to wildlife, birds, and rodents that would need some protection.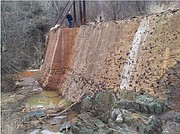 At the smelter site, a lot of water flowed downstream and was held back by a berm at least 15 feet tall. The berm blew out, dumping tailings that had lesser levels of arsenic and lead than at the Iron King Mine.
Water has eroded through this area, leaving probably 30 to 50 cubic yards of materials in the soil. The flood plain, where the materials from mine and smelter combined and are held back by a dam, contains grass that is particularly hardy.
Questions from the audience
Q: Humboldt resident Sandy Geiger: With any possible project that would be solution, is there also maintenance?
A: Jeff Dhont: Yes.
Q: Is the EPA on board forever?
A: Yes. There needs to be some provision for maintenance.
Q: Do we have a responsible party who will pay?
A: We have one for the mine, none for the smelter, which often leaves some negotiation with the government and the responsible party. In theory, it would be great if the responsible party is to take care of maintenance.
Q: Mayor Terry Nolan, who owns property within the Superfund site: The current property owners, what would their responsibility be?
A: The law provides for liabilities for different classes of people. For instance, the current owner or operator, or at the time contamination was released, is all written into the law for liabilities to pay for it or to do the work. Ultimately, for the party to do it, we would have to negotiate with for consent to perform. If a party has no money at all, they are still liable, but it doesn't behoove us to go after them.
Q: Nolan: If the owner bought property not knowing of the contamination and wanted to do something with the property and now can't?
A: The owner has to do due diligence. Did he reasonably know about the contamination or look for it? It's complex, and would involve a side discussion at a minimum. In general, it doesn't extend to homeowners; we don't go after them.
Dhont: Say EPA spends $50 million cleaning something up, and the property owner makes a windfall out of it, and goes and develops it or whatever they want to do. EPA doesn't provide for just automatic windfalls for landowners of contaminated properties. There's quite a bit of complexity.
Q: Nolan: The law applies to everybody, right?
A: I can provide you the law, Mayor, you can read the classes of responsibility. It is complicated.
"If you get a thin enough soil that washes in with the rain, it will grow. There is plenty of lush vegetation except where contaminated soil is right on the surface," he said.
Smelter workers dumped the waste slag, which looks like manmade lava, on the east side of the Agua Fria River. Some has calved off and fallen near the river.
Very little tailings made it to the Agua Fria, which is in amazing shape, Dhont said. "We're lucky. But if the dam were to break, the Agua Fria would be in bad shape."
Most of the slag is fairly inert and not high in metals. When it breaks and granulates, it becomes small sand that ends up downstream. Dhont said the slag is not as high a chemical threat as the tailings are, but it is a physical threat.
Down near the river is an old tailings pile that predates the Iron King Mine. While not very big, it does have higher levels of lead and is located in a steep canyon. Getting in and out of there could be quite a challenge, Dhont said.
OPTIONS
The Feasibility Study contains many options, some of which will be screened out as too expensive, some would never work. There are sites where EPA will do nothing.
They look at long-term effectiveness and permanence. They also look at short-term actions as an alternative such as blasting slag off the wall – that could be worse than the slag itself, Dhont said – or it could be easy things like keeping dust levels down.
Other questions are whether the options are implementable and what is the cost? Will the community and state or tribal accept the options? What are plans for future land uses? Esthetics?
"So that's what's coming," Dhont said.
As for the tailings, the need is to keep people and animals from making contact with the piles, find a way to limit blowing dust, stop infiltrating water that can cause acid rock drainage with a cover or cap, stop things from washing or eroding downstream.
ALTERNATIVES
EPA will look at what process to use for the tailings piles. Is there enough cover material or soil available? Where would it come from?
If moved, where to? Some locations for depository space could be on the property. Is there enough space? Digging and hauling contaminated materials away would take hundreds and hundreds of millions of dollars, and isn't really an option, Dhont said.
Some of the land may need deed restrictions, and there has been some talk about using it as a solar site. That is one possible use, but otherwise, it's not really usable, he said.
At the smelter site, one idea is to build a channel 60 feet wide that would take the water all the way down to the dam, and notch the dam. The flow would be clean water, and this option protects all the areas not in the channel from being scoured away.
"The downside is if you wanted to do something with the smelter site in the future – you mentioned a park – it could preclude that," Dhont said. "This gives you an idea of what some of the constraints are."
More like this story
SUBMIT FEEDBACK
Click Below to:
This Week's Circulars
To view money-saving ads...