Cordes Lakes Community yard sale huge success
Originally Published: March 7, 2018 5:50 a.m.
The Community Yard Sale on Saturday, March 3, was certainly a popular item on everyone's agenda.
People could either rent space at the Cordes Lakes Community Center or have their address listed on the community map. A bonus to those on the map was the fact that they could call the center to place an order for breakfast burritos and they would be delivered to their address.
That wasn't the only great feature. The ladies from Spring Ridge Academy came in to bake muffins and cupcakes for the event. It takes many hands to make a mighty muffin and that is just what was made for the Yard Sale.

There were several tables inside and outside and the vendors were quite willing to chat about their products, creating a warm and friendly atmosphere.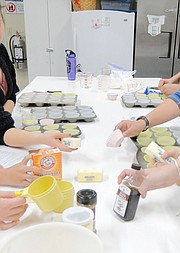 Mo Emmett of Cordes Lakes Library said they had many paperbacks and no room, so they were selling these for Friends of the Library. She said that the new Spring Valley Library also had an overload of paperbacks, but needed time to sort through them. So watch for the next sale to get good books at a great price.
Donny Oen is running for Constable and had his petitions on the table to gather signatures. There also were coins, beautiful scarves, art work, crafts, and a terrific assortment of goods to meet many wants and needs.

The breakfast burritos were so popular that they sold out and started the lunch special of Sloppy Joe's early.
Copies of the maps of the balance of community residences having sales ran out early also, but that was easily remedied with the copy machine making more.
All in all, the yard sale was successful for the Cordes Lakes Community Association and those in the neighborhood who participated.
More like this story
SUBMIT FEEDBACK
Click Below to: