Editorial: Online tests for learner's permits increase risks to all drivers
Originally Published: March 6, 2018 6:03 a.m.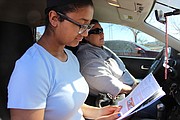 Arizona's Motor Vehicle Division — as of Monday, March 5 — has begun allowing testing for learner's permits to be taken on the internet, rather than in person at any of the state's more than 40 MVD offices or at the dozens of third-party offices that also offer the required multiple-choice test.
As a result of this change, citizens who are at least 15 years and 6 months old can visit the website ServiceArizona.com to take the Learner's Permit Test from home or, on a smartphone, wherever and whenever they choose, 24/7.
As with the in-person test, if the teen gets at least 24 of the 30 questions correct, they are then — Badaboom! — legally allowed to drive, as long as they are accompanied by a duly licensed, adult driver who is seated in the front passenger seat.
The state's change in its policy that governs how teens are legally permitted to take to the road is, no doubt, a big hit among the smartphone generation, but this change also comes at a time when schools no longer routinely offer driver's education classes.
The change in this policy suggests a state that is blindly indifferent to, at the very least, the safety of the drivers who insurance companies — the statistical experts in such matters — already consider to be at high risk of motor vehicle accidents.
The state's willing blindness to that fact seems to include, as well, teens' remarkable proficiency with all things online, including ways to cheat online tests.
In contrast to the consequences, however serious, of cheating on online tests administered at high school, potential consequences for cheating on a driving learner's permit test -- administered online, without supervision -- can be a lot more than merely academic.
Without mentioning the savings in tax dollars — which do not, after all, equate to the safety of young drivers — that, no doubt, result from the switch to the online learners' permit tests, the state says parents will accommodate for the apparent dangers associated with this change.
"The whole exercise is basically a reminder that it's a learner's permit," said Douglas Nick, ADOT's assistant communications director for customer outreach. "If you're a learner's permit holder, you're going to drive with a licensed driver in the front seat with you. More often than not, that's going to be a parent, and that parent is the one who is going to be proctoring the test, so that parent has a real strong motivation to want the teenager to take that test seriously."
In reality, parents are not adept at monitoring children's activities online. And not every parent cares how their teen acquires a learning permit.
The safeguards were, before this week, in place to make sure Junior was the one taking the test, not his or her smarter and maybe older friend. And how about whether the teen taking the test is doing so with the driver's manual, with all the answers, open?

Nick reminds us, "so much of what the economy is based on is online commerce now."
But teenagers' safety, and the safety of the rest of Arizona's drivers, is not a value that compares to "online commerce."
Nick also says the online testing program is designed to cut down on wait times — long lines — at MVD locations. Again, the wait times are due to staffing shortages, imposed to save money.
Let's admit the obvious, please: the safety of our roads and our future is worth the cost of administering the learner's permit test in person, in a setting that prevents cheating.
And Nick's observation that the tests are "technologically feasible" and, therefore, justified, does not deserve to be dignified with any response.
Keep in mind, too, the teens who are now lawfully allowed to take their learner's permit test online, without any supervision, are the same teens who have been told it is illegal to text and drive, according to the state law enacted in 2017.
Although these young drivers will still be required to pass an in-person road-skills test to obtain a full-fledged driver's license, at least as high a level of care should be applied when they are first permitted to begin their adventure on the roads of Arizona, behind the wheel of a several-thousand-pound piece of machinery.
For their safety, at least, the critical rite of passage that a learner's permit is, still today, should require a higher standard than an unsupervised, online test.
— The Daily Courier
More like this story
SUBMIT FEEDBACK
Click Below to:
This Week's Circulars
To view money-saving ads...