2 arrested for smuggling meth in hidden compartment
CSO vehicle check reveals drugs were hidden in air filter case under hood
Originally Published: March 6, 2018 6:05 a.m.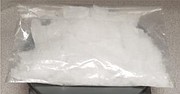 A Phoenix man and his female passenger were arrested on drug smuggling and illegal sale charges after a Yavapai County Sheriff's Office deputy stopped the car they were in for traffic violations at 2 a.m. on Thursday, according to a YCSO news release.
The deputy spotted a blue 2006 Chrysler sedan driving erratically on south Interstate 17 at the Highway 260 ramp, the release said.
The driver, identified as Jose Castillo, 42, appeared nervous, confused and "deceptive" when talking to the deputy about traffic violations as well as about who owned the car. Castillo's passenger was identified as Beatrice Brito, 35, of Mesa.
Neither Castillo nor Brito could produce a driver's license, the release said. Deputies eventually determined the licenses for both Castillo and Brito were revoked, the release said.
Castillo told deputies he was driving because it was urgent he needed to pick up a member of his family; Brito admitted that story was false, the release said.
Deputies detained both Castillo and Brito, and impounded the car as there was no licensed driver. During a routine inspection check of the vehicle, deputies discovered some marijuana and a "snort" straw covered in white powder in the center console along with some drug paraphernalia. The deputies then checked the engine, and inside an air filter case discovered a quarter pound of methamphetamines, the release said. Castillo denied any knowledge of the drugs, but admitted his earlier story about picking up a relative was a lie.
Further investigation into the couple determined that Brito was previously arrested on drug charges that resulted in her incarceration in an Arizona prison. Deputies found $1,000 cash in Brito's purse, as well as documentation of drugs sales, that appeared to connect her with the hidden drugs, the release said. She, too, appeared to be under the influence of methamphetamine and admitted to smoking it in days prior to the traffic stop, the release said.
Castillo and Brito were both charged with transportation of dangerous drugs, possession of dangerous drugs for sale, possession of drug paraphernalia and possession of marijuana. In addition, Castillo was charged with driving with a revoked driver's license. The two were booked into the Camp Verde Detention Center. Castillo was released pending a court date and Brita remains in custody on a $5,000 bond.
Castillo and Brito were booked at the Camp Verde Detention Center on charges including Transportation of Dangerous Drugs, Possession of Dangerous Drugs for Sale, Possession of Drug Paraphernalia, and Possession of Marijuana. Castillo was charged with driving on a Revoked Driver's License and has since been released pending court. Brito remains in custody on a $5,000 bond. Citizens can contact the Yavapai County Sheriff's Office with information or questions at 928-771-3260 or visit the YCSO website: www.ycsoaz.gov.
— The Daily Courier
More like this story
SUBMIT FEEDBACK
Click Below to:
This Week's Circulars
To view money-saving ads...