7 ways to keep your pet healthy and their breath fresh
The keys to good pet health

Originally Published: March 4, 2018 6:05 a.m.
Fido and Ms. Kitty just might be the best pets anyone ever asked for – but they need to be healthy in order to stay that way.
There are a number of health benefits to owning a pet, according to the Centers for Disease Control and Prevention. However, they may appear to be healthy even when they're not. Further, their breath might be a simply be a sign of dental disease or something much greater as kidney disease or dental abscess, said Dr. Gordon Vergason, owner and doctor of Premier Pet Hospital in Prescott Valley, 3322 N. Glassford Hill Road.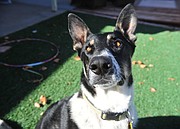 Here are seven ways to keep your pet healthy – including making their bad breath heel.
1 - Regular veterinary visits – no matter if the pet is a cat, dog, parakeet, bearded dragon or horse, regular, life-long veterinary care is important to having a healthy pet, according to the CDC.
"Keep up with your pet's vaccines, deworming and flea and tick control," the organization states. "By keeping your pet healthy, you help to keep yourself and your family healthy."

2 - Diet and environment – the CDC recommends providing pets with a good diet, fresh water, clean bedding and plenty of exercise.
3 - Keep good hygiene – keep the dog's yard and the cat's litter box clean by picking up after them on a regular basis. The CDC recommends taking care of the cat's litter box daily as it will lower the chances of exposure to harmful parasites.
4 - Rawhide Chews – Vergason says these are one of his favorite ways, as well as a pet's favorite way, to take care of bad breath.
"If they're truly dental rawhides, they're going to be size specific and they're going to be thin enough to be able to digest it if the pet swallows the last little bit. I don't recommend letting them swallow the last little bit," he said. "When a pet chews on these dental rawhides, they work on their teeth from the sides. There's nothing better secondary to brushing to get the plaque and the tartar off."
Vergason also said he endorses bully sticks because they're fibrous.
5 - Brushing teeth – if a pet owner can desensitize their pet to let them brush their teeth, it's better than dental rawhide and better than bully sticks, he said.
6 - Water additive – Premier Pet Hospital sells a water additive called Healthy Mouth, Vergason said. It's the only one approved by the Veterinary World Health Council, he said.
"This one here is proven to reduce plaque and tartar on the teeth," Vergason said. "Every time they take a drink of water, they improve their dental health."
7 - Special food – this is if the pet has kidney disease, he said, noting that 52 percent of all cats over the age of 12 have some degree of kidney deficiency while it's a lot less with dogs.
"If you can catch it early, you can put them on a special food to slow down the rate of progression," Vergason said. "Once you get too far along, it's pretty tough. Kidney disease is progressive and once it starts, you can't stop it."
More like this story
SUBMIT FEEDBACK
Click Below to: