Smartphones, tablets, computers now integral part of most classrooms
PHS principal: 'If you don't have a cellphone, you're almost at a disadvantage'

By
Max Efrein
|
mefrein
Originally Published: March 3, 2018 6:02 a.m.
School administrators in the quad-city area have given up on trying to keep cellphones and other personal devices out of the education environment.
"I think technology has taken over so much that if we don't choose to integrate it in some way, we're fighting a losing battle," said Keri Milliken, principal for Tri-City College Prep High School, a charter school in Prescott.
Leaders at both Prescott High School (PHS) and Bradshaw Mountain High School (BMHS) have taken the same stance.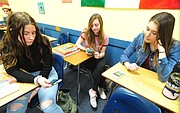 Case in point, PHS had a flat-out cellphone ban up until five years ago. The rule was that no students could have their cellphones on their person at any point while on the campus.
"So a kid would be walking in the hallway and a parent or a teacher would see a cellphone in their back pocket and the teacher would say, 'you have to go turn your cellphone in,'" said PHS Principal Stephanie Hillig. "Well then it became a nightmare because we were collecting so many cellphones."
Students' parents were getting outraged as well.
"I cannot tell you how many parents came into my office, called me every name in the book, and said 'how dare you, that is the way I communicate, and when I send my kid a text, they need to be able to answer it,'" Hillig said.
After sitting down with students, parents and the school board, it was decided that a drastic change of policy was necessary.
"We agreed we were going to make it positive," Hillig said. "We are going to take the phones and make them an educational tool."
Bradshaw Mountain High School (BMHS) made a similar transition just this school year. After about seven years of not allowing students to use their mobile devices on campus during the lunch hour or in-between classes, the restrictions were lifted in August 2017 due to overwhelming pushback from students and parents.
"Myself and my Dean of Students were a little bit concerned about what [the students] are going to be using them for, but so far — and I'm knocking on wood right now — the kids have been respectful and responsible with their cellphones during their passing periods and lunch," Miner said.

Now at both schools, not only can students have their cellphones on them at all times, but the handheld computers are also frequently used for in-class activities.
"It has taken off to the point where if you don't have a cellphone, you're almost at a disadvantage," Hillig said.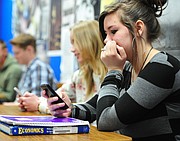 For instance, every school day, PHS teacher Harrison Chislock hosts a one-question quiz at the beginning of his economics class.

As soon as the class period starts, he initiates the quiz online using a web service called Google Classroom.
As students make their way into the class, the first thing they do is take out a personal device — be that a smartphone, tablet or computer — log into the online classroom session, and answer the question.
Their ability to answer locks after 10 minutes, so if a student doesn't answer by then, Chislock knows that student is tardy.
"So they can't say 'oh, I was here, I promise,'" Chislock said.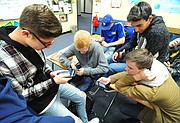 Similarly, students taking Spanish at PHS are often told at the start of their class to pull out their mobile devices for a warm-up activity using a program called Quizlet Live. Once the activity begins, the students form into groups to answer 12 Spanish questions in a row on their team-leader's mobile device.
"So it encourages collaboration and attention to detail," PHS Spanish instructor Tiffany Boehle said.
Accessibility, monitoring ability
Nowadays, one is hard-pressed to find a teenager who doesn't have a smartphone attached to his or her hip at all times; but for those who don't, local schools do their best to provide at least a limited number of mobile devices that students can use in the classroom when necessary.
"If I had the perfect world at Prescott High School, every kid would be issued an electronic device from Prescott High School," Hillig said. "We would be a one-to-one school, because if we do that, then we control what gets downloaded on it and we can monitor it."
Miner wishes for the same perfect world at Bradshaw Mountain, but getting there is going to take some time due to funding limitations, he said.
At the moment, he's just trying to take the step to get a campus-wide Wifi established — something PHS has already achieved.
"I'm hoping at the beginning of next school year there will be Wifi for students," Miner said.
Tri-City College Prep has had a one-to-one ratio for five years already. This has made it so there really is no reason for students to have their smartphones during class unless for emergencies.
"That way, they're not distracted by other stuff on their phone, because they can do everything on the tablet," Milliken said.
Similar to how PHS has its students take quizzes on their smartphones, Tri-City students often take tests on their tablets.
The difference is, since TCP owns all of the tablets, they can limit what students can and cannot do on the devices.
A good example is each tablet is installed with Safe Exam Browser. This locks the web browser on the tablets when any tests are being taken on them so that students cannot search the internet for answers to questions.
Without that level of control, PHS and BMHS are simply relying on students not cheating themselves by trying to cheat on tests or using their cellphones for other inappropriate behavior.
"We tell them they can only use their cellphones in class for educational purposes, but how do you monitor that?" Hillig said.
Follow Max Efrein on Twitter @mefrein, email him at mefrein@prescottaz.com or call him at 928-445-3333 ext. 1105.
More like this story
SUBMIT FEEDBACK
Click Below to: