Originally Published: March 2, 2018 6:04 a.m.
Don't let the single boarding gate, quaint fireplace, and unassuming atmosphere of the Prescott Municipal Airport terminal fool you.
With a history dating back nearly a century, the airport, also known as Ernest A. Love Field, has played host to plenty of notable people — from presidential candidates to old-time movie icons.
Although no known list exists to document all of the famous people who have flown into the Prescott Airport, Sharlot Hall Museum has a record of a celebrated stop by long-time U.S. Sen. Barry Goldwater prior to the official launch of his 1964 run for the U.S. Presidency.
The Sharlot Hall file includes a series of photos showing Goldwater's Sept. 3, 1964, arrival at Ernest A. Love Field, surrounded by throngs of supporters.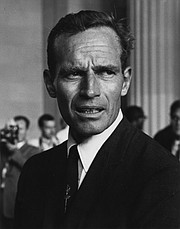 Since then, a number of other presidential candidates have flown into Prescott for campaign stops. Among them: Sen. John McCain during his 2008 bid for the presidency; President George W. Bush during his 2000 presidential campaign; President Donald Trump during his 2016 run for the presidency, prior to a rally in Prescott Valley; and Steve Forbes and Pat Buchanan during their 1990s-era runs for the Republican nomination.
The airport has also hosted countless movie stars and celebrities.
A quick survey of employees at the airport and the terminal's Susie's Skyway Restaurant turns up a number of visits by celebrities over the years.
Susie Sullivan, owner of Susie's Skyway, remembers seeing actor Charlton Heston making his way to the Hertz Car Rental office, which was then located near the restaurant.
Sullivan said Heston's visit occurred shortly before the actor's death in 2008. "He was very nice, and we talked for a while," Sullivan said of the star of movies such as "The Ten Commandments" and "Planet of the Apes."
In addition, Sullivan and other restaurant employees say that Hollywood star Antonio Banderas was a recent visitor to the Prescott Airport, as were actors Robert Redford and Tom Selleck.
Actor Patrick Swayze also reportedly visited the airport briefly after making an emergency landing of his Cessna airplane in the then-developing Mingus West subdivision in the outskirts of Prescott Valley in June 2000.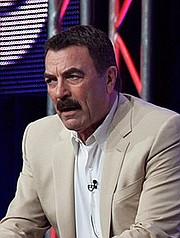 Swayze, who died in 2009, was reportedly on his way from Van Nuys, California, to Las Vegas, New Mexico, on June 2, 2000, when he experienced engine problems and made a hasty landing near the intersection of Buckshot and Palomino streets, according to Courier files.
Other actors have paid visits to Prescott for movies being filmed in the community, or nearby.
DeeDee Howard, an airport employee, said she talked briefly in December 2016 with actor Miles Teller, who played Granite Mountain Hotshot survivor Brendan McDonough in the 2017 film "Only the Brave," which depicts the 2013 Yarnell Hill Fire tragedy.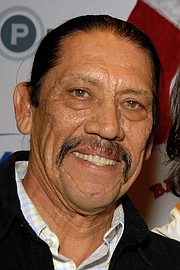 Airport employees also visited with actors Danny Trejo and Robert Pine, who had roles in "Wish Man," a movie that filmed largely in Prescott in 2017.
Airport employees say that actress Natalie Portman also spent some time in the airport terminal recently during a fueling stop en route from Page.
Movie stars tend to fly in on private jets, Sullivan said, and usually don't make a fuss. "They tend to come and go and blend in," she said.
Editor's Note – This is not meant to be an exhaustive list of people of fame who have visited Prescott's airport.
Related Stories
More like this story