Steer wrestlers, bareback riders treat sellout crowd on Day 1 of Frontier Days
World's Oldest Rodeo
By
Doug Cook
|
dougout_dc
Originally Published: June 28, 2018 11:43 p.m.
Updated as of Friday, June 29, 2018 6:01 AM
Photo Gallery
Perf 1 Prescott Frontier Days Rodeo 2018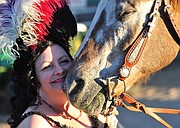 PRESCOTT — On a comfortable summer night Thursday at the historic Prescott Rodeo Grounds, the 131st annual Frontier Days "World's Oldest Rodeo" opened to a sellout crowd with several professional bareback bronc riders and steer wrestlers performing well.
Although four bareback riders "turned out" due to injury or other unforeseen circumstances, five of the seven others who showed scored highly. Orin Larsen of Inglis, Manitoba, Canada, registered an 81-point ride on a horse named Saguaro to grab an early lead here with seven performances remaining through Wednesday, July 4.
Zack Brown of Red Bluff, California, placed second on the evening with an 80-point ride on Harry Vold Rodeo Company's Angel Face. Blade Elliott of Centreville, Alabama, claimed third with 79.5 points on Vold's Misty Valley.
Rounding out the Top 5 were Seth Lee Hardwick of Ranchester, Wyoming, who took fourth with 78 points on Vold's Spicy Chicken and Devan Reilly of Sheridan, Wyoming, who nabbed fifth with 76 points on Vold's Storm Valley.
In steer wrestling, all 12 rodeo cowboys who were entered showed up to perform. Cody Cabral of Hilo, Hawaii, sparkled, pinning his steer to the ground in a mere 3.9 seconds for the lead through the first performance.
Ross Mosher of Augusta, Montana, placed second in 5.2 seconds, followed by Errol Frain of Los Alamos, California (third, 6.4 seconds) and Cody Harmon of Dublin, Texas (fourth, 7.1 seconds).
For the rest of the results from Thursday's performance, including those for tie-down roping, saddle bronc riding, team roping, women's barrel racing and bull riding, visit dcourier.com.
UP NEXT
If you can't make it to Friday's 7:30 p.m. performance but you have an Internet connection, you can watch the full show on the Professional Rodeo Cowboys Association's (PRCA) ProRodeoTv.com website as long as you create an account with your email address and pay a fee.
Those who have tickets will be treated to steer wrestling, bareback bronc riding, tie-down roping, saddle bronc riding, team roping, women's barrel racing and bull riding, among other attractions.
In the arena, keep an eye out for 2015 world champion and current world No. 1-ranked saddle-bronc rider Jacobs Crawley of Boerne, Texas. He has already garnered more than $103,700 in earnings this season and is well ahead of world No. 2-ranked rider Wade Sundell of Boxhom, Iowa ($71,607).
Two-time defending world champion bareback rider Tim O'Connell of Zwingle, Iowa, is also expected to compete on Friday night. Shane O'Connell of Rapid City, South Dakota (presently eighth in the world standings with more than $47,200), Kaycee Feild of Spanish Fork, Utah (four-time world champion, current world No. 12), and Logan Corbett of Las Cruces, New Mexico (No. 21 in the world) are scheduled to ride, too.
Tim O'Connell is presently ranked second in the 2018 world standings with more than $76,800 in earnings.
Current world No. 1-ranked bareback rider Caleb Bennett of Tremonton, Utah, holds the lead with more than $93,400 to his name.
Doug Cook is a sports reporter for The Daily Courier. Follow him on Twitter at @dougout_dc. Email him at dcook@prescottaz.com or call 928-445-3333, ext. 2039.
More like this story
SUBMIT FEEDBACK
Click Below to: