Man arrested in $170,000 Walmart cash case appears in court
Travis Rains, Kingman Daily Miner
Originally Published: June 28, 2018 1:59 p.m.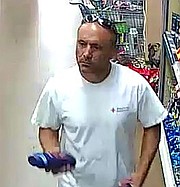 KINGMAN – Jeremiah Grant Peacey, 39, of Kingman, arrested June 12 in connection with an investigation into a large amount of cash reported stolen in Walmart, was in court Thursday and has a pretrial conference set for 11 a.m. July 23 in Mohave Superior Court before Judge Richard Weiss.
Kingman Police Department detectives located Peacey on the 2100 block of Snavely Avenue in Kingman on June 12 after identifying him as the male subject seen in surveillance photos from Walmart. A search warrant was later served and detectives reported they recovered a significant amount of cash and a 1999 Jeep that Peacey is alleged to have purchased after the theft.
According to police, Peacey admitted to taking the bag and later found that it contained a large amount of cash, but he did not notify authorities or try to locate the owner.
Mohave County grand jurors returned a felony indictment June 21 that includes one count of felony theft. Jurors accused Peacey of taking U.S. currency with a value of $4,000 or more.
Photo Gallery
Police search for missing $170,000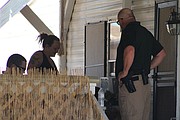 Police search a Kingman home for a suitcase containing $170,000.
A Valle Vista woman reported leaving the cash-filled suitcase, which she said contained about $170,000, at Walmart June 5. She took the suitcase into the store with her and left it on the bottom of a shopping cart, not realizing that she'd forgotten it until she returned home, according to police reports.
The woman told police she was carrying the money with her because she had just sold her Texas house and business and feared someone tried to break into her home to steal the money.
Peacey posted a $25,000 bond to Kingman Cerbat Justice Court days after his arrest and entered a not guilty plea to Judge Weiss Thursday morning.
More like this story
SUBMIT FEEDBACK
Click Below to: