Entertainment center stage for 'World's Oldest Rodeo'
Events run all weekend

Originally Published: June 28, 2018 4:14 p.m.
Updated as of Friday, June 29, 2018 1:16 PM
Prescott Frontier Days, the "World's Oldest Rodeo," may have already started, but that doesn't mean there isn't plenty of entertainment left to go around between the parade, dances and specialty acts.
The most anticipated event of the year in Prescott, this year's rodeo runs through Wednesday, July 4, and has the theme of "Stay Cowboy," according to a news release from Media Representative Tricia Lewis.
"This theme, now a registered trademark with the State of Arizona, represents the simple way of life and we are proud to 'hang our hat' on it," the release states. "'Stay Cowboy' hopefully comes as a friendly reminder of back in the day when people treated each other with kindness and embraced business decisions with a simple hand shake."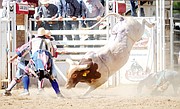 In addition to the performances, entertainment for this year's rodeo includes the annual Prescott Frontier Days Rodeo Parade at 9 a.m. Saturday, June 30, in downtown Prescott. The second largest parade in the state of Arizona, according to the Prescott Frontier Days website, this year's theme is "Honoring Our Every Day Heroes." Pro Rodeo Hall of Famer and voice of the "World's Oldest Rodeo" since 1984, Randy Corley is this year's grand marshal. The parade is followed by the annual tradition of the boot races on Whiskey Row.
There's also the Kiwanis Kiddie Parade that starts at 9 a.m. Friday, June 29, between Goodwin and Cortez streets.
Those looking for a little evening entertainment can look no further than two more nights of dancing from 8 p.m. to 1 a.m. Friday and Saturday in the BMO Harris Bank parking lot, 303 Montezuma St. This year's dance features Five in the Wheel, a local country and classic rock band that has been together since 2014. It has Becky Ryniak on lead vocals and percussion; Dan Shaw on lead vocals, guitar, banjo, mandolin and keyboards; Nick Guzzo on lead vocals and guitar; Neil Neeideffer on drums and percussion; and Curtis Randall on bass.
Tickets for the dances are $5 per person and are available at the door.
"Five in the Wheel plays dance music," Prescott Frontier Days website states. "While the band has opened for such acts as the Wall Flowers and has had Frank Zappa's talented sister Candy join them on stage performing, their greatest pleasure comes from playing for the dancers."
The more artistically minded rodeo-goers can enjoy the annual Courthouse Plaza Arts & Crafts Show from 9 a.m. to 5 p.m. all weekend, June 30 through July 1-2.
Going to the performances will also mean seeing specialty acts, such as Bobby Kerr's Mustang Act and the Diamond Z English Shire Horses. Performances are held at the Prescott Rodeo Grounds, 840 Rodeo Drive, and gates open two hours prior to each performance.
Lewis stressed that Prescott Frontier Days is a family event with plenty to do for people of all ages.
"People come from all over the world to visit Prescott during Prescott Frontier Days and to be a part of rich-western culture and history that stems back to July 4, 1888," she said.
For more information, visit dCourier.com or worldsoldestrodeo.com.
More like this story
SUBMIT FEEDBACK
Click Below to: