50 years of country at Elks Theatre on June 29

Originally Published: June 28, 2018 4:04 p.m.
Enjoy a celebration of five decades of country music at the Elks Theatre and Performing Arts Center this weekend with Nashville Gold.
The show has been going on for about five or six years after having been developed by its drummer, Dave Schreck, said Tad Management Production and Operations Director Scotty Pearson. It features music from different aspects of the country genre throughout the years.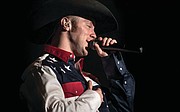 "The great thing is not only does it have a history, but it highlights songs from different singers," Pearson said.
For instance, one of the performers, Rick Greenly, is the show's outlaw and plays songs by Johnny Cash and Waylon Jennings while female lead Tammie Stockly does early country and performs songs by such performers as Patsy Cline, he said.
According to the Tad Management website, the show includes the favorite kings and queens of country alongside those outlaws, urban cowboys and honky-tonk heroes.
"From the earliest days of what was referred to as 'Hillbilly Music (through) the Grand Ole Opry, Singing Cowboys, Western Swing, Honky Tonk, The Nashville Sound, Outlaw Country and Urban Cowboy, right up to today's New Country, no era of good ol' American music is left behind."
The show starts at 7 p.m. Friday, June 29. Tickets are $25 for adults and $22 for seniors and available online at www.prescottelkstheater.com, by calling 928-777-1370 or at the door one hour prior to the performance.
Other performers include Schreck on the drums; Sergio Nevarez on guitar; Adam Bei on piano; Rob Jeffrey as the male lead; and Heidi Hille on fiddle. Hille is prominently featured as the violinist in the show's version of "The Devil Went Down to Georgia," Pearson said. All their voices are highlighted too.
"It's not just a show with one singer and one band … in all it's a seven-piece band," Pearson said. "It all comes together nicely for the show."
The show includes a video aspect that's fun and entertaining as well, he said. The Elks Theatre and Performing Arts Center is located at 117 E. Gurley St.
More like this story
SUBMIT FEEDBACK
Click Below to:
This Week's Circulars
To view money-saving ads...