Yavapai County Juvenile Court program helps teenagers learn life skills, stay out of trouble
20 years to NEW life

By
Max Efrein
|
mefrein
Originally Published: June 26, 2018 6:03 a.m.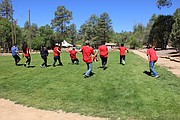 Some dragging their feet, others bright-eyed, 12 teenagers were told to gather around to participate in a team-building exercise Tuesday morning, June 19, at Chapel Rock Camp and Conference Center in Prescott.
All 12 are juvenile probationers currently enrolled in a summer program coordinated every year by the Yavapai County Juvenile Court called Youth STEP (Summer Training Employment Program). The program began in 1998, making this year its 20.
Over seven weeks, the 15- to 17-year-olds allowed to take part in the program are taught various life skills in the mornings, and then work actual jobs in the afternoon.
"This is really their first opportunity to have a job and earn money," said Danny Watkins, one of two lead coordinators for the program. "A lot of them don't know the value of money, so our first two weeks have been learning how to budget things."
Juvenile probationers must interview to get into the program, and interview again to work half days at a local nonprofit that matches their interests. The number of Youth STEP participants depends on how much funding is available, said Scott Mabery, director for the Yavapai County Juvenile Court.
At its peak, the program hosted about 30 juvenile probationers split between the Verde Valley and the Quad cities area. But because of budget constraints following the Great Recession in 2008, they've had to make considerable adjustments. This year, there was only enough money to pay for six participants at each site.
FUNDING
The program is funded by state treatment dollars, Mabery said. These dollars are also used by the Yavapai County Juvenile Court for such things as residential placement, counseling, family services and psychological assessments.
"So we have to kind of cut that pie up and see where our dollars are best spent," Mabery said. "Everything has been cut over the years."
Jill Moore, the community restitution coordinator for the Yavapai County Juvenile Court, said the number of participants went from 16 last year to 12 this year primarily because of Arizona's minimum wage going up.
One of the few who have been involved in the program's operation all 20 years, Moore hopes to see it recover from the last decade of cuts.
"Maybe through some grants," she said.
Watkins, who's been a coordinator for the program since 2007, is hopeful as well given what it does for the kids involved.
"I'm pretty sure 75 percent of these guys would be in trouble this summer if they weren't here, because it keeps them busy," Watkins said.
HOW KIDS END UP ON PROBATION
"The majority of the problem is with drugs and alcohol," Moore said.
In her 24 years serving the Yavapai County Juvenile Court, she has noticed that the severity of the crimes and drug use among youths is increasing.
Derrick Lee, an adolescent recovery court case manager for the Yavapai County Juvenile Court, can attest to this.
"It ranges from alcohol to meth and heroin," Lee said.
To be put on probation as a juvenile, the minor either has to commit a serious crime or be a repeat offender, Moore said. Otherwise, they usually just have to complete a diversion program.
"They've been around for a while," Moore said about the 12 juvenile probationers participating in Youth STEP.
Juvenile probationers who owe restitution to victims of crimes they committed are given priority when applying for Youth STEP. If accepted into the program, 60 percent of what they make at their jobsite is diverted to paying that off.
Moore said it's important for juveniles to pay off their restitution as quickly as possible, for it can carry over into their adult lives and significantly impact their credit scores.
"It tacks on to them and they pretty much can't get a loan for anything," she said.
She knows some juveniles who owe as much as $100,000 in restitution.
"One of the kids in Sedona set the park on fire and burned part of a building, and his restitution is $80,000," Moore said. "The insurance company is going after him."
The kid who started the fire in Sedona applied for Youth STEP this year, but didn't meet some of the criteria required to participate.
"Logistically, he couldn't get to the program," Moore said. "You have to have a ride to and from home."

YOUTH STEP PARTICIPANTS
Mariah (last name withheld) was trying to find a job for the summer, but was having difficulty.
"I'm just trying to save money to get a car," she said.
So her probation officer recommended she apply for Youth STEP. She didn't think they'd accept her into the program, but she tried anyway and made the cut.
Since starting the program in early June, she's already begun to rethink her life after struggling with some drug use.
"I want to be like a criminal investigator, but I'll have to change a lot of things in my life for that to happen so I can get the career," she said. "I just need to straighten up."
Jacob (last name withheld), another Youth STEP participant, initially got in trouble by stealing from his mom.
He has since been to a boot camp for at-risk youth and is now aiming to get back on track with his school work.
"I'm a little bit behind," he said. "I want to get my diploma."
At the end of the seven weeks, a Youth STEP graduation will be hosted and is usually attended by the participants' parents, instructors and job sight supervisors.
"You can really see in them that they accomplished something," Moore said. "This may be the first time they've ever completed something all the way to the end."
More like this story
SUBMIT FEEDBACK
Click Below to: