One year after Goodwin Fire
Looking back at what was, what is; investigation ongoing

By
Max Efrein
|
mefrein
Originally Published: June 25, 2018 6:02 a.m.
It was a hot, dry, cloudless Saturday afternoon when the Goodwin Fire started June 24, 2017.
The initial report came in like any other. A fire-watching patrol for the Prescott National Forest had spotted a half-acre fire at about 4 p.m. in the Bradshaw Ranger District. The origin was about 14 miles southwest of Prescott at the junction of Senator Highway and County Road 177, the Courier reported.
Given the environment the fire started in and the weather conditions at the time, the Prescott National Forest quickly began deploying fire suppression resources to the scene, but difficult backcountry terrain prevented them from responding fast enough. By 7:30 p.m., the fire had claimed about 150 acres.
Pine Flat, which has only a handful of structures, was evacuated as a precaution and an emergency shelter was set up at Mayer High School.
Before the night was up, two hotshot crews, a Type 2 crew, three helicopters, two heavy airtankers, two single engine airtankers and six engines had been assigned to the fire.
By 10 a.m. the next morning, June 25, the blaze had consumed 1,000 acres and was classified a Type 3 incident on the scale of 1 to 5 (one is largest, five is smallest). In less than 24 hours, it was upgraded to a Type 1 Incident, but the heightened response couldn't stop what occurred on Tuesday. Attempts to hold the fire using the Goodwin Road were overpowered by strong gusts of wind, allowing the fire to make a significant run toward Mayer and Dewey-Humboldt.
Kevin Leonard remembers the moment well. He mines in the mountains behind Poland Junction and watched as the fire and smoke came rolling his way.
At about 1 p.m. that day, the Forest Service told him to evacuate.
"They said, 'Kevin, this fire will be on top of your cabin by 4 o'clock,'" Leonard said.
Leonard chose to ignore the advice. Instead, he prayed.

"I went in my backyard, I got on my knees and I went, 'Lord, turn that fire around,' and that's what happened," Leonard said.
Had the fire made it to Leonard's cabin, it wouldn't have taken long for it to reach the Blue Hills area of Dewey-Humboldt, where the town's mayor, Terry Nolan lives.
"It was chaotic," Nolan said. "People started evacuating and it was pretty backed up, because there's only one way in and one way out of Blue Hills."
LOSSES
By the time the fire was fully contained on July 10, about 28,516 acres had burned.
Five homes, two travel trailers and a few out-buildings were caught in its path as well, according to a damage assessment conducted by Yavapai County Development Services.
While local rancher Carole Wagner didn't lose her home, she suffered in other ways. The pasture that much of her cattle rely on for grazing in the Mayer area was completely overrun by flames. Her cattle miraculously survived the blaze, but quite a few of her young calves subsequently died of pneumonia from inhaling all of the soot that coated their bodies. Left with little foliage for her cattle to forage, Wagner has had to sell off much of her herd and spend tens of thousands of dollars to purchase feed to keep the rest alive.
Even today — due to excessive flooding shortly after the fire and then the driest winter in history for the area — regrowth of vegetation is minimal.
"It's been a struggle every day," Wagner said.
COST, RESOURCES
Originally estimated at costing about $14.5 million, the final bill for the Goodwin Fire ended up quite a bit lower at $12,158,048.
"The cost we provided was just an estimate provided by the Incident Management Team," said Prescott National Forest spokesperson Debbie Maneely.
Included in this price is the cost of equipment, crews, camp support, aircraft, camp personnel and line personnel.
The Prescott National Forest covered slightly more than half the cost, with the state covering about $5,366,455.
When the fire was at full tilt, at least 20 local, state and national agencies were supporting the incident, Maneely said. A fact that many local officials are very proud of.
"What really stood out to me —and I've worked many fires over the years — is just how fast the resources come to bare, and everybody really comes together to help the community," said Dave Williams, Land Use and Planning division manager with Yavapai County Development Services.
Photo Gallery
Goodwin Fire 062717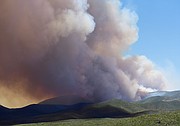 INVESTIGATION ONGOING
As is often the case for catastrophic fires, the cause of the Goodwin Fire is still under investigation even after an entire year.

Maneely said this is mostly because the United States Forest Service (USFS) has been significantly understaffed.
"In many cases, there may only be one LEO (law enforcement officer) for an entire forest that may contain one or more million acres," Maneely said.
Case and point, the Prescott National Forest has one LEO for 1.2 million acres.
Additionally, there is only one USFS criminal investigator for Northern Arizona. That person is in charge of investigating all felonies and complex misdemeanors in the region, including major fires, illegal marijuana operations, assaults of employees, threats to the public and other violations.
Cases are prioritized depending on the nature of the crime, court deadlines, and other demands, Maneely said.
As it stands, the only information available about the Goodwin Fire is that it was human caused. A finish line for the investigation is still not in sight.
More like this story
SUBMIT FEEDBACK
Click Below to:
This Week's Circulars
To view money-saving ads...