California firefighter plans 380-mile run to honor Granite Mountain 19

By
Cindy Barks
|
Cindy_Barks
Originally Published: June 25, 2018 6:02 a.m.
(This is the second in a series of stories on the efforts that grew in the wake of June 30, 2013, when 19 Granite Mountain Hotshots died fighting the Yarnell Hill Fire).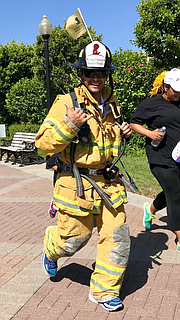 As the five-year mark of the Granite Mountain Hotshot tragedy dawns on Saturday, California firefighter Joe Zambrano has every intention of being at the spot where the Granite Mountain 19 died.
It won't be an easy feat, however.
Before Zambrano, a firefighter in El Segundo, California, can follow the Hotshots' final journey at the Granite Mountain Hotshot Memorial State Park in Yarnell, he plans to run about 380 miles through scorching desert heat in full firefighter turnout gear.
The experienced marathon runner has a single goal in mind: To honor the 19 elite Prescott wildland firefighters who died fighting the Yarnell Hill Fire on June 30, 2013.
And, because of a tie with the family of fallen Hotshot Kevin Woyjeck, Zambrano says the young Hotshot who grew up in California and whose family has a deep firefighting background would be his main focus.
"It will be a memorial run; I'm running on behalf of Kevin Woyjeck to honor Kevin and his crew," Zambrano said in a recent telephone interview
Zambrano is no stranger to running in honor of firefighters. Over the past five years, he has run about 82 marathons.
He did his first race in full firefighter gear in 2013, in honor of Houston firefighters who died in the line of duty.
"That was the inspiration for me to start running in firefighter gear," Zambrano said, adding that he ran to raise money for the Fallen Firefighters Foundation. "I wanted to remind the families that they didn't die in vain."
Several years ago, Zambrano connected with California firefighter Joe Woyjeck, who had recently lost his son Kevin. When Zambrano honored Kevin by running the LA Marathon in 2014, Woyjeck was at the finish line. "It was so emotional," Zambrano said.
Woyjeck, who recently helped Zambrano chart his route from Bellflower, California, to Yarnell, points out the run would help to raise money for the foundation the Woyjecks created in honor of Kevin.
"He is honoring the 19 and the 'Kevin Woyjeck Explorers for Life Association,'" Woyjeck said of Zambrano.
Over the next week or so, Zambrano plans to run up to 62 miles a day in his quest to arrive in Yarnell by Saturday, carrying 19 Hotshot flags.
Along the way, he will have a support crew to help out if the heat proves a problem. But he is confident he can complete the long-distance run. "My determination is going to carry me," Zambrano said.
He plans to arrive in Yarnell on June 29, and hike the state park's Hotshot trail on the 30th.
More like this story
SUBMIT FEEDBACK
Click Below to:
This Week's Circulars
To view money-saving ads...