Tiny homes grow in popularity, but where can you put them?
Originally Published: June 24, 2018 6:02 a.m.
Tiny houses have received major attention over the past few years, but, although potential buyers view them with fondness, these small homes often come with big problems when their owners want to place them on land within incorporated areas.
The standard American house is generally about 2,600 square feet, but the typical tiny house may be only 400 square feet. Tiny homes can be built like a traditional mobile home and then transported to the buyers' property, or built on site.
Despite the popularity of the tiny home movement — driven by shows on TV networks such as HGTV — fans find that it isn't easy to find a place to situate one around the Quad Cities.
Leni Hubbard of Dewey said, "There are not places that allow them unless you go out of any city limit. Zoning is always an issue."
Dewey-Humboldt allows them, as long as they meet the towns' building codes, though not everywhere. Large areas of the town are zoned R1-L, which stipulates that only site-built houses can be placed within them.
"Problem is that Prescott doesn't zone for tiny homes, so I don't have that option," said Denise Chatham.
Prescott's Development Services facilitator, Chelsea Walton, said that tiny homes on permanent wheels are treated like RVs, while those on temporary wheels — like larger, standard, manufactured homes — are treated as manufactured housing.
"Site-built tiny houses must comply with all of the regular permitting processes and residential building codes as adopted by the City of Prescott," she said. "Under these current regulations, the smallest livable square footage for residential construction is as follows: there has to be one bedroom of 120 square feet, one bathroom of 40 square feet, and one other room — typically a kitchen — of 70 square feet."
That makes the smallest allowable site-built home in Prescott to be 230 square feet.
Walton said there is currently one 325-square-foot home in Prescott.
"From the city's perspective, placement of these tiny houses can be in any residentially zoned area within the city," she said. "If the property is within an HOA, however, there are typically minimum square footage requirements, so that should be investigated prior to moving forward with a tiny house build in an HOA."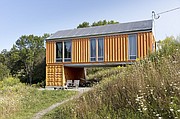 Changes to the residential building code are coming, Walton said. "The International Code Council did adopt special provisions for tiny houses in the 2018 update to the IRC. This version was just released and the City of Prescott hopes to have it officially adopted in 1.5 to 2 years."
In Prescott Valley, a tiny home is classified in the same category as a "park model," which is a mobile home of 400 square feet or less that comes on a chassis and stays on it.
"We have an abundance of them in the Villages at Lynx Creek and Orchard Park," said Richard Parker, Community Development director for Prescott Valley. "That's what we equate to a tiny home."
Tiny homes are not allowed to be placed on property other than RV parks in Prescott Valley, he said, "because they don't meet a uniform building code standard."
Site-built tiny homes can't be constructed elsewhere, either.
"The problem with that is, our zoning regulations require minimum sizes for living quarters," he said, "and (tiny homes) are far smaller than the minimum requirements for a single-family residence." He gave the example of R1-L zoning, which requires 1,750 "livable" square feet.
Chino Valley allows tiny homes, said Jason Sanks, director of Development Services.
"From a zoning perspective, we don't really have any regulations prohibiting 'tiny homes' as our ordinance does not differentiate between site-built or manufactured housing — we would just require it to be built on a permanent foundation," he said. "Our staff and Town Council have been supportive recently of the 'park model' units that function like tiny homes, but are considered RVs through the building code. Park model developments require special zoning, usually as a Planned Area Development, to be allowed."
Of course, all of this may become a moot point down the road. Forbes magazine stated, in November 2016, "Just like platform sneakers and leisure suits were once popular but are now widely ridiculed, the tiny-home trend is one that may be hot now but is likely to cool off before long."
Follow Scott Orr on Twitter @AZNewsguy. Call him at 928-642-6999. Email him at sorr@prescottaz.com.
More like this story
SUBMIT FEEDBACK
Click Below to: