Rental prices hurt homeless voucher program

By
Nanci Hutson
|
HutsonNanci
Originally Published: June 23, 2018 6:04 a.m.
They answered a call to duty. Then life happened. And some lost their way.
The battlefield today for these chronically homeless men and women is an out-of-reach rental market.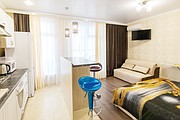 The Northern Arizona Veteran Affairs Health Care System has 80 "tenant-based" housing vouchers for the most vulnerable of these veterans in Yavapai County. The trouble is about a dozen are soon to be without a lease, either because it has expired or their housing space is under new ownership.
The federal Housing and Urban Development department collaborates with the Veteran Affairs Administration to provide federally-subsidized, supportive housing vouchers — the program is colloquially known as HUD-VASH — to those identified as chronically homeless who need affordable housing connected with support services. A case manager works with these veterans who may be in addiction recovery or require assistance with physical and mental health care. The aim is to assure that these veterans prove to be suitable tenants, with the case manager working with both tenant and landlord to forge a solid, amenable relationship that enables the veteran to have a safe, comfortable and affordable place to call home.
While there are landlords willing to rent to these veterans, some considering it a patriotic duty to do so, there are landlords who have waiting lists of clients able to pay higher rents than what the government is willing to pay, said Ed Shier, the manager of the Northern Arizona Veteran Affairs Health Care System's Healthcare for Homeless Veterans program.
HUD-VASH nurse and team leader Jessica Harman said she and the rest of the staff are on the hunt for landlords and homeowners, even those who might have an in-law or basement apartment to spare, willing to give these veterans a chance. The VA voucher subsidy is guaranteed money, and paid promptly, and the case managers are a go-to resource for landlords and the veteran tenant, she said.
Veterans with these vouchers cause far fewer problems than average tenants — Shier said less than 10 percent. Many are employed or do volunteer work; some have used the voucher program as a stepping stone to home ownership, he said.
One Prescott property manager and affordable housing specialist, David Kotin, president of Kay-Kay Realty Co., said he rents to a number of veteran tenants at his Canyon Run complex in Prescott. For the most part, he said, he has had few difficulties. Kotin said he appreciates the ongoing relationship he has built with the VA case management staff that assists in maintaining healthy tenant/landlord relationships.
He admits this population of tenants can be "challenging, but rewarding," said Kotin, who operates other federal housing subsidy programs across the state and counts himself fortunate to have a "high percentage of success in working with them."
On occasions where he has a difficult tenant, Kotin said he does not hesitate to seek intervention with the case managers.
"We do what we can to work with them," he said.
Since 2015, HUD has allocated 78,000 vouchers to help formerly homeless veterans across the nation secure a permanent residence.
Want to help?
If you have a place to rent, or are interested in learning more information about this project, contact the Northern Arizona Veteran Affairs Health Care System Public Information Office at 928-717-7587.
The HUD-VASH voucher for a studio apartment cannot exceed $731 a month. A one-bedroom apartment voucher is $737; a two-bedroom $980 up to a five-bedroom home or apartment that cannot exceed $1,612.
The other catch is veterans cannot pay more than the subsidy; the rent limit is fixed so a veteran or veteran and family do not pay more than 30 percent of their income for housing. Most of these veterans' income comes from Social Security, either disability payments or retirement payments. The bulk are senior citizens.
In the coming months and years, Prescott and Prescott Valley are expected to be getting several hundred units of new rental housing, including complexes intended to be for individuals on limited incomes. U.S. VETS is planning a project of 56-units of dormitory-style transitional housing and 88 studio apartments identified for homeless veterans. Kotin, too, has a new project in the works.
But all this will take time.
"The crisis is today," Shier said.
Follow Nanci Hutson on Twitter @HutsonNanci. Reach her at 928-445-3333 ext. 2041.
More like this story
SUBMIT FEEDBACK
Click Below to: