Good times, good tunes at Prescott Bluegrass Festival; continues Sunday
Bands play on Goodwin, musicians jam on the grass

Originally Published: June 23, 2018 6:49 p.m.
Updated as of Sunday, June 24, 2018 6 AM
Photo Gallery
37th Annual Prescott Bluegrass Festival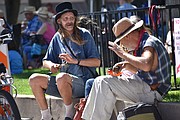 A collection of photos from the 37th annual Prescott Bluegrass Festival held in the Courthouse Plaza in downtown Prescott, Arizona. These images are from from Saturday, June 23, 2018. (Richard Haddad/WNI)
In the sea of bluegrass fans listening to the Sonoran Dogs play their first set at the 37th annual Prescott Bluegrass Festival Saturday, June 23, was Gina Kritchevsky, who said she's been a bluegrass fan for about 30 years.
It was the music that brought her to this year's festival, said Kritchevsky, who pretty much comes out every year.
Saturday's set saw music by the Copper Canyon Ramblers, The Corzines, The Central Valley Boys, the Sonoran Dogs, and Ryan Shupe and the Rubberband who were featured in the afternoon and as the evening headliner.
The festival continues onto Sunday, June 24, with opening ceremonies beginning at 10:30 a.m. followed by music from The Corzines and the Central Valley Boys, along with Tom Paxton and the Don Juans as the headliner. There is also a raffle drawing at 3 p.m.
However, it wasn't just the bands that were playing Saturday as musicians congregated on the north side of courthouse plaza to jam together.
At one point, three members of the Prescott-based bluegrass band Just 4 Mama — Christina Davis on guitar, Jim Davis on upright bass and Chloey Davis on banjo — joined in.
Chloey Davis said she's been playing the banjo for about 12 years, ever since she was 15 years old, and enjoys coming out to jam at the festival.
"It's like a family reunion every year of all the Arizona Bluegrass people," she said. "It's a lot of fun, I always enjoy seeing everybody."
She said she tries to come to the festival each year that she can, though she missed last year. At the 2004 Prescott Bluegrass Festival, she saw Rhonda Vincent perform and her banjo player, Kenny Ingram, was up there strumming away, she added. It was then she figured she'd play the banjo.
She was also the Arizona Banjo Champion for 2011-12, according to Jim Davis. Just 4 Mama also includes Hilary Davis.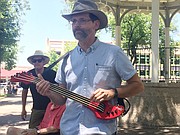 It wasn't just locals jamming on courthouse plaza though as Robert Bowe came all the way from Phoenix to play with a unique instrument called the Ashbory Bass. It's an instrument thought up by a couple of guys in the United Kingdom in the early 1980s, Bowe said. In trying to build an instrument where the instrument itself had nothing to do with the sound, they came up with the Ashbory Bass.
"In the '90s, they came up with the ukulele bass using parts from one of these," Bowe said. "They look more normal, so this thing kind of became a relic of history."
He's had the Ashbory Bass since 2012, right as the ukulele bass was taking off, he said. It's fun to come out and jam with a unique instrument that he's only ever seen four other people with.
On Sunday, the bands will continue to perform on the stage on Goodwin Street and jamming will continue on the northern end of courthouse plaza. The event is slated to conclude at 3 p.m.
More like this story
SUBMIT FEEDBACK
Click Below to:
This Week's Circulars
To view money-saving ads...