Woman who claimed she was kidnapped arrested in Prescott homicide case
Sharalyn Stura's false statements prompted manhunt in Rimrock
Originally Published: June 22, 2018 8:55 a.m.
Updated as of Saturday, June 23, 2018 6 AM
Photo Gallery
Murder In Williamson Valley 062118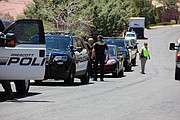 Max Efrein/Daily Courier
The Prescott Police Department (PPD) has arrested a 57-year-old Prescott woman on suspicion of murder of a 66-year-old Prescott man.
The woman, Sharalyn Stura, allegedly faked her own kidnapping in an attempt to cover up the crime, PPD reported Friday morning, June 22.
On June 21, at about 11:50 a.m., the PPD received a call from the Arizona Department of Public Safety (DPS) advising they found a woman tied to a vehicle's steering wheel on Interstate 17 at Highway 179. She told authorities she had been kidnapped from her home in the 1500 block of Southview Drive in Prescott. The DPS troopers subsequently requested that the PPD conduct a welfare check at the home. When officers entered the home, they found a man's lifeless body inside. The man, 66-year-old Jay Michael Freeman, was shot to death, PPD said. He was the owner of the home and was considered to be in a romantic relationship with Stura at the time.
Stura told officers that an unknown man had kidnapped her and forced her to drive to an area near Montezuma's Well in the Rimrock area. However, she was able to escape and drive away, she reported. She then told officers she drove toward the area of I-17 and Highway 179 seeking help when a passerby finally stopped to assist her.
She indicated to officers that the man who kidnapped her was armed and fled on foot in the area around Montezuma's Well and the Beaver Creek area just north of Rimrock. This information resulted in an extensive, coordinated search effort for the suspect involving several law enforcement agencies.

Prescott Police Detectives assumed the investigation and obtained a search warrant for the home. Evidence gathered at the home as well as an interview of Stura revealed conflicting information in Stura's account of what had occurred, PPD said.
"It was determined that the story provided by Stura concerning the kidnapping and suspect at large was completely fabricated," said PPD spokesperson Dave Fuller.
Stura admitted her involvement in the homicide and was booked into the Yavapai County jail on one count of first-degree murder. There are no other suspects currently being sought, PPD said.
"The Prescott Police Department would like to thank Sheriff Mascher and all members of the Yavapai County Sheriff's Office, as well as the Department of Public Safety for their assistance and dedication of resources to this incident," Fuller said. "All efforts taken in the Montezuma's Well and Rimrock areas were made based on the information provided by what appeared to be a legitimate account of a serious violent crime. We appreciate the patience and understanding of the residents of that area, as we were proceeding with the utmost concern for their safety."
Related Stories
More like this story
SUBMIT FEEDBACK
Click Below to:
This Week's Circulars
To view money-saving ads...