Jam out at Bluegrass Festival this weekend
The only free bluegrass festival in the Western US

Originally Published: June 22, 2018 6:01 a.m.
The 37th annual Prescott Bluegrass Festival, the only free bluegrass festival in the Western United States, returns this weekend with performances by a number of bands along with the chance for musicians to jam together.
Held Saturday and Sunday, June 23-24, on Goodwin Street and the courthouse plaza, the festival includes performances by the Copper Canyon Ramblers; the Corzines; The Central Valley Boys; The Sonoran Dogs; Ryan Shupe & The Rubberband, who perform Saturday afternoon as well as headlining the evening concert Saturday night; and Tom Paxton and The Don Juans as the headliner Sunday afternoon.
Opening ceremonies begin at 9:45 a.m. both days.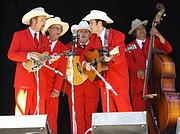 Their Saturday evening performance is going to be a little bit more raucous than their afternoon set, Shupe said.
"We'll try and see if there's some of the guys there who want to come and jam with us," he said. "It'll be a fun time."
The band has been to Prescott, performing at the Bluegrass Festival before and they're glad to be back, Shupe said. It's a cool festival that's ways a lot of fun and Prescott itself is a great city.
Shupe said he is a fifth-generation fiddler who picked up the instrument at the age of 5. Naming his band The Rubberband was a last minute decision, he said. At the time, he didn't really know who was in the band and someone called him saying they needed a name for the band as soon as possible for a poster. Someone else gave him the idea to call it Ryan Shupe & The Rubberband because he didn't know who would be in it and it's a "flexible band."
"That just kind of stuck," Shupe said. "All these years later, it's the same name, although I've been pretty lucky to be able to have some pretty steady guys come play."
The band plays all original music, which Shupe writes too, he said. His inspiration comes from all sorts of things from observations and things he finds funny to predicaments or something from his life in general.
As for the sound, they're a unique mix of rock and bluegrass, he added. It's not something there's a lot of which gives them a distinct sound. It's pretty difficult to find another band exactly like Ryan Shupe & The Rubberband.
"That's been, in a lot of ways, a benefit to us," Shupe said. "If you want some Shupe, then you just got to listen to some Shupe. Nothing quite like it."
In addition to the performances, there's jamming that takes place on the north side of courthouse plaza, according to a news release from the Prescott Chamber of Commerce. It's a crowd favorite where strangers and friends gather together with their instruments and play. Jamming will also take place at Mile High Middle School athletic field, which also serves as a campground during the festival weekend.
For more information about Ryan Shupe & The Rubberband or to hear some of their music, visit www.shupe.net.
For more information about the 37th annual Prescott Bluegrass Festival, call 928-445-2000 or visit www.prescottbluegrassfestival.com.
Related Stories
More like this story
SUBMIT FEEDBACK
Click Below to: