Prescott PD actively investigating alleged murder
Manhunt for murder suspect continues
By
Max Efrein
|
mefrein
Originally Published: June 21, 2018 3:25 p.m.
Updated as of Friday, June 22, 2018 6 AM
Photo Gallery
Murder In Williamson Valley 062118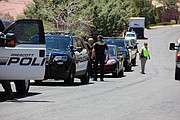 Max Efrein/Daily Courier
The Prescott Police Department (PPD) is investigating a suspected homicide in the neighborhood of Southview in Prescott off of Williamson Valley Road.
Officers were initially dispatched to the 1500 block of Southview Drive late Thursday morning, June 21, to conduct a welfare check.
The request to do so came from the homeowner's roommate, who had expressed concern for the homeowner's welfare to troopers with the Arizona Department of Public Safety (DPS) along Interstate 17 earlier in the morning, said PPD spokesman Dave Fuller.
When officers arrived, they found a man dead in the home, apparently murdered due to the type of injuries visible on his body.
"We really don't know what happened here," Fuller said at about 1:30 p.m. "We have to figure out everything from causation, to motive, to suspect, times – the who, what, where, why, when, how. We're truly just starting at square one."
Residents in the neighborhood said they did not see or hear anything the morning the body was found that would have made them suspect anything unusual was going on in the area. The owner of the home had only lived in the neighborhood about 18 months and, though "a nice person," was "very private," neighbors said.
Both the DPS and the Yavapai County Sheriff's Office (YCSO) are assisting in the investigation, as the primary suspect was initially believed to be somewhere in the Verde Valley near Rimrock. As of 6 p.m., however, an intensive search and follow-up on several leads came up dry, said YCSO spokesman Dwight D'Evelyn.
"The suspect has not been located and is believed to no longer remain in the (Rimrock) vicinity," D'Evelyn said. "Deputies will provide special patrol in the area throughout the night as a precaution."
The suspect is described as a white man, about 6 feet tall, YCSO said. At the time of the crime, he was believed to be wearing a black or blue shirt, black shorts and possibly black gloves. He is considered armed and dangerous.

"The community is asked to stay alert and report any suspicious circumstances related to this investigation," D'Evelyn said.
Whether or not the suspect is caught in the near future, Fuller said the investigation will likely take significant time to conduct.
"Many times with this type of crime, it takes a long period of time from start to finish," Fuller said. "We don't want to make any mistakes. We want to make sure we're thorough and accurate."
Related Stories
More like this story
SUBMIT FEEDBACK
Click Below to: