New exhibit offers space to appreciate artists' work
Photos, ceramic teapots at Yavapai College through July 12

Originally Published: June 21, 2018 6 a.m.
Updated as of Sunday, June 24, 2018 10:58 PM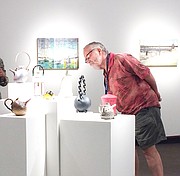 A new exhibit featuring teapots, prints and photographs opened June 16, and the public is invited to the Opening Reception from 5 to 7:30 p.m. Friday, June 22, in the Yavapai College Prescott Art Gallery, 1100 E. Sheldon Street.
"Transmission" is a group exhibition of nine diverse artists that provides the viewer a look at a variety of media and styles that runs through July 12.
Mixed media artist Michelle Robinson combines photography with painting. Collage artist Rachel Singel depicts natural systems that explore formation, behavior and metamorphosis in her prints and drawings. In the center of the gallery, however, viewers will delight in the whimsical assortment of ceramic teapots by several local artisans.
From rustic antler-handled "Hunter's Tea" to the penguin-shaped "Emporer's Tea," both by Blaine Lemert, to the large green "Skirted Teapot" by Ben Rod, each teapot is uniquely designed and brightly lit.
The opening reception is part of Prescott's Fourth Friday Art Walk. A cash bar, hors d'oeuvres and entertainment are part of the event.
Gallery hours are 10 a.m. to 7 p.m. Tuesday and Wednesday, and 10 a.m. to 3 p.m. Thursday through Saturday. For more information, call 928-776-2031 or visit yc.edu/artgallery.
More like this story
SUBMIT FEEDBACK
Click Below to: