Prescott Idol, concerts offer summer evening downtown delights
Originally Published: June 20, 2018 6 a.m.
As evening cools the air, a sizable audience cheers as Al Slade sings and dances to the classic Engelbert Humperdinck song, "Quando Quando Quando." Slade is one of the many local contestants sharing their talents in the 2018 Prescott Idol competition being held three Thursday nights each month in the courthouse plaza.
"I love to sing and I'm a dancer," Slade said with a playful smile. "You only get one chance, so I dive in. I think it went well tonight."
Based on the cheers and lively applause, it seemed most of the audience agreed.
Slade performed during the June 14 show. The next Idol performance will be Thursday, June 28.
The Idol competition is part of the 2018 Summer Concert & Movie Series being offered in downtown Prescott through the end of August.
The Prescott Idol finale will be held at 6:30 p.m. Thursday, Sept. 6, at the Yavapai College Performing Arts Center.
Anyone interested in competing in the talent competition, or voting for a contestant, can visit www.967thewolf.com and click on the Prescott Idol logo or CLICK HERE.
The public is invited to enjoy the free concert series performances taking place Tuesdays, Thursdays and Fridays on the plaza. You can bring a chair, blanked or sit on the courthouse steps.
Summer night movies are shown each Wednesday at the Elks Theatre with admission of a cash donation of your choice.
Following is a list of the remaining dates and events:
2018 Summer Concert Schedule & Movie Series Schedule
Tuesdays
JAZZ ON THE COURTHOUSE PLAZA 6:30 to 8:30 P.M.
June 26 - Prescott Jazz Summit All Star Big Band
July 10 - Larry Kantor Quartet
July 17 - Desert Cats
July 24 - Steve Annibale
Aug. 7 - Jeff Weisel & The Cool Azul
Aug. 14 - Mike Vax Quintet
Aug. 21 - Scandalous Trio and Friends
Aug. 28 - Goodwin Street Gang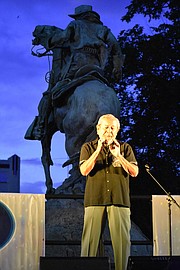 Thursdays
PRESCOTT IDOL 6:30 to 8:30 P.M.
June 28
July 12
July 26
Aug. 9
Aug. 23
Aug. 30
Sept. 6 - Prescott Idol Finale at Yavapai College Performing Arts Center
Thursdays (Every third Thursday)
CENTRAL AZ CONCERT BAND 7 to 8:30 P.M.
June 21
July 19
Aug. 16
Fridays
LIVE MUSIC CONCERTS 6:30 to 8:30 P.M.
July 20 - Llory McDonald & Combo Deluxe
Aug. 3 - Vacation Day
Aug. 17 - Five in the Wheel
Aug. 24 - The CheekTones
Wednesdays
MOVIES AT ELKS THEATRE 7 P.M. (Cash donation)
June 20 - Guardians of the Galaxy
June 27 - Tombstone
July 11 - Grease
July 18 - Dirty Dancing
July 25 - Despicable Me
Aug. 1 - Ghostbusters
Aug. 8 - Mama Mia
Aug. 15 - Out of Africa
Aug. 22 - Top Gun
The 2018 Summer Concerts Series is presented by: City of Prescott Office of Tourism, Greater Prescott Outdoors Fund, El Gato Azul World Bistro, 105.1 The Talker, Rewind, 107.5 Kolt Country, 96.7 The Wolf, Elks Theater Performing Arts Center.
For more information about the series, contact Kathy August at kfaugust@gmail.com, or call 928-713-1254.
More like this story
SUBMIT FEEDBACK
Click Below to: