Bergner: A 'zero tolerance' policy worth avoiding as a father
Raising Prescott

Originally Published: June 19, 2018 6:05 a.m.
While celebrating Father's Day with my children Sunday, my thoughts weren't far from the thousands of young sons and daughters living in cages, wrapped in spacecraft-like blankets, and positioned in several organized rows of green floor mats, the kind that might be used for morning yoga.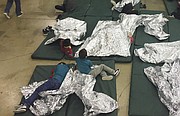 No matter your political affiliation, cultural background or god you pray to, the heartbreaking photos released Monday by national media likely struck a chord, and spoke volumes of the very real situation our country now finds itself in.
A scathing opinion piece by former first lady Laura Bush ran in Sunday's edition of the Washington Post, calling the practice of separating immigrant parents and children along our southern border "cruel" and "immoral."
She likened the U.S. immigration detention centers and the policy that has forced them to house children in places like Nogales and McAllen, Texas, to the internment camps of Japanese-Americans during World War II.
Yet the world moves forward. The American machine continues to steam full-speed ahead. World Cup fans found themselves on the edge of their seat Sunday as defending champion Germany was upset 1-0 by Mexico.
At the same time, nearly 1,100 children, many likely from Mexico, sat at makeshift tables in a Texas warehouse to eat lunch surrounded by chain link fences, U.S. Border Patrol agents and what our federal government is calling a "zero tolerance" policy.
That "zero tolerance" phrase was muttered by U.S. Attorney General Jeff Sessions in April. Meant to deter immigrants from cross illegally into the United States with their young children, the policy has backfired into one of the biggest humanitarian crises in recent U.S. memory.
Marilyn Haigh of the Texas Tribune reported Monday that the U.S. Department of Homeland Security said 1,995 children were separated from 1,940 adults between April 19 and May 31. Those numbers don't include separations since June 1, or before April 19.
Julie Hirschfield Davis of the New York Times said in a recent article titled, "How Trump came to enforce a practice of separating migrant families," that the idea of "crying children torn from their parents' arms was simply too inhumane, and too politically perilous, to embrace as policy" for former presidents George W. Bush and Barack Obama.
Meanwhile, President Donald Trump is blaming Democrats, calling for a change in the law because they've forced his hand.
Remember, the law making it a crime to cross a U.S. border illegally was enacted decades ago. The immigration law, according to alllaw.com, actually uses the term "improper entry."
The crux of the issue currently is the enforcement of that law, specifically separating children from their parents who attempt to cross the border illegally. The parents are being arrested and prosecuted to the fullest extent of the law, and their children, who can't go with them to federal jail, are being bussed to these detention centers. The Office of Refugee Resettlement then attempts to contact relatives already living in the U.S., or place them in foster homes.
The Boston Globe reported that caseworkers, judges and Border Patrol officials don't know when families will be reunited. Haigh reported in her story, "What's happening at the border? Here's what we know about immigrant children being separated from their families," that some families were separated for six months.
So in the end, regardless of faulty political maneuvering or a past weak stance on immigration, once again, we've come up short in understanding the true consequences of our actions.
These children may never mentally recover from something like this, perhaps forming some sort of PTSD from their experience living in closed quarters without the ability to go outside for more than two hours, or hug their trusted loved ones.
Although these young children are not my own, or are not U.S. citizens, I'm still a father. I still understand the most important job I have is protecting my children.
And as a father, I would never put myself, or my children, in this situation, but I'm not running from a corrupt government seeking a better life, am I? I already have it, a gift bestowed upon me from past generations. So the whole "give me your tired, your poor, your huddled masses yearning to breathe free" doesn't apply here?
We're better than that.
Brian M. Bergner Jr. is sports editor for The Daily Courier. Follow him on Twitter and Instagram at @SportsWriter52, or on Facebook at @SportsAboveTheFold. Email bbergner@prescottaz.com or call 928-445-3333, ext. 1106.
Related Stories
More like this story
SUBMIT FEEDBACK
Click Below to:
This Week's Circulars
To view money-saving ads...