Now showing: June 15, 2018
Originally Published: June 15, 2018 6:01 a.m.
Movies playing at Harkins Theatres, 7202 Pav Way, Prescott Valley (Highway 69 between Glassford Hill and Lake Valley roads). 928-775-7444; www.harkins.com.
(NEW) Incredibles 2
Elastigirl springs into action to save the day, while Mr. Incredible faces his greatest challenge yet -- taking care of the problems of his three children. Voiced by Brad Bird, Samuel L. Jackson, and Holly Hunter. Rated PG – action, adventure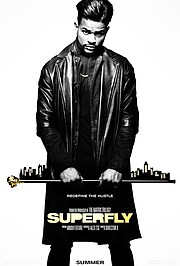 (NEW) SUPERFLY
Career criminal Youngblood Priest wants out of the Atlanta drug scene, but as he ramps up sales, one little slip up threatens to bring the whole operation down before he can make his exit. Stars Trevor Jackson, Lex Scott Davis, and Rick Ross. Rated R – thriller, action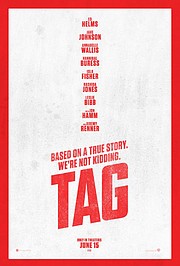 (NEW) TAG
One month every year, five highly competitive friends hit the ground running for a no-holds-barred game of tag -- risking their necks, their jobs and their relationships to take one another down. This time, the game coincides with the wedding of the only undefeated player. What should be an easy target soon becomes an all-out war as he knows they're coming to get him. Stars Jeremy Renner, Annabelle Wallis, and Isla Fisher. Rated R – comedy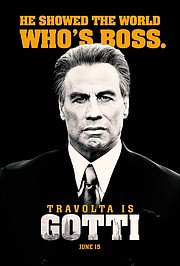 (NEW) GOTTI
John Gotti rises to the top of the New York underworld to become the boss of the Gambino crime family. His life takes a tumultuous turn as he faces tragedy, multiple trials and a prison sentence. Stars John Trevolta, Kelly Preston and Al Pacino. Rated R – drama, crime
Also showing:
SOLO: A STAR WARS STORY
Through a series of daring escapades, young Han Solo meets his future co-pilot Chewbacca and encounters the notorious gambler Lando Calrissian. Stars Alden Ehrenreich as Han Solo, Emilia Clarke as Kira, and Donald Glover as Lando Calrissian. Rated PG-13 – fantasy, science fiction
HEREDITARY When Ellen passes away, her daughter's family begins to unravel cryptic and increasingly terrifying secrets about their ancestry. The more they discover, the more they find themselves trying to outrun the sinister fate they seem to have inherited. Stars Milly Shapiro, Toni Collette, and Alex Wolfe. Rated R – drama, thriller
Deadpool 2 Wisecracking mercenary Deadpool joins forces with three mutants -- Bedlam, Shatterstar and Domino -- to protect a boy from the all-powerful Cable. Stars Ryan Reynolds, Josh Brolin and Morena Baccarin. Rated R - Action & Adventure, Comedy
OCEAN'S 8 Five years, eight months, 12 days and counting — that's how long Debbie Ocean has been devising the biggest heist of her life. She knows what it's going to take — a team of the best people in the field, starting with her partner-in-crime Lou Miller. Together, they recruit a crew of specialists, including jeweler Amita, street con Constance, suburban mom Tammy, hacker Nine Ball, and fashion designer Rose. Their target — a necklace that's worth more than $150 million. Stars Rihanna, Sandra Bullock, and Cate Blanchett. Rated PG-13 – thriller, crime
More like this story
SUBMIT FEEDBACK
Click Below to:
This Week's Circulars
To view money-saving ads...